From time to time, mommies like you and I, need to feel pretty. Some of us have that perfect lip gloss or those hot heels that do the job. But, I bet there is something missing from your closet that's getting rave reviews this season, and will for sure make you feel feminine all over. LACE! Lace dresses, lace blouses, lace tanks, even lace necklaces are hot, hot, hot and leaving mommies like you and me, feeling pretty, pretty, pretty!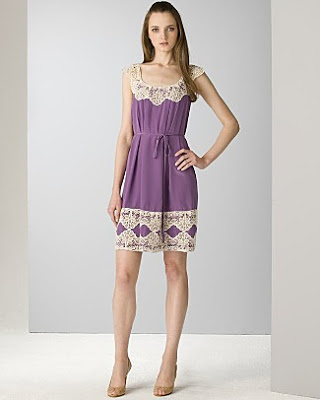 Aside from the lace hot pants you put on after the kids go down at 8:00, I am talking about lace you can wear in front of "his" co-workers or your fellow mommy friends! Now at Bebe, you can find a flirty lace banded tie neck halter top or a sexy firm fitted pencil skirt in lace. Either shirt or skirt you can't go wrong.
My personal favorite is a sexy, slinky dress with lace trim like this Milly Window Lace Strappy Dress. This dress is oh so feminine and I hope to have one of every color by summer. I already found a royal blue slip dress trimmed in cream lace that I can't wait to wear! If slip dresses aren't your style, then simply fit a lace tank under your blazer for work or pair a gathered neckline flared blouse with your hottest jeans, either way, feeling pretty in lace is what it's all about this season.
Being mommies is our job. Changing diapers, wiping puke and scheduling nap times is what we do best. I know you love being moms, but don't you want to feel pretty while doing what you love most? I know I do! Next time you see me, I'll be wearing lace and royal blue!
Disclosure – This post is a collaborative post and may contain affiliate links. By clicking and shopping, you help support Glamorous Moms and allow me to keep reporting on all things glamorous.