The Makeup Show Chicago: Great Makeup, Great Brands
The Makeup Show is a traveling makeup show that travels to Chicago, Los Angeles, Houston, and New York each year. I recently attended The Makeup Show Chicago, October 12-14, 2018 which was held at the Revel Fulton Market downtown Chicago. For industry professionals only, the show featured tutorials by professional makeup artists, meet and greets with industry favorites, Halloween and special effects makeup demonstrations, product discount opportunities, shopping & networking opportunities.
As an avid beauty blogger for twelve years, I knew exactly what brands I wanted to spend time with and who I wanted to speak to during the show. Here were some of my favorites…
Melanie Mills Hollywood
Melanie Mills, a mom like me, brings glam to every skin type, every nationality, and every glam child who wants to shine. Melanie Mills Hollywood wants everyone to "Be Gleamalicious". Do you ever look at JLo and wonder how she shines and glows from head to toe? Melanie Mills has products that can help you match the exact same look! But why glow when you can gleam?! Click here to get 15% off Melanie Mills products!
Mehron
If you don't know about Mehron Makeup, let me share a bit of insight with you. Mehron Makeup has been around 90 years. Yes, 90 years! And, they are the original makeup company that glammed up our "Old Hollywood" starlits during filming and photoshoots. Who exactly? Ok, I'll name drop. Elizabeth Taylor and Marilyn Monroe received their flawless looks from Mehron. Back then, no one could compete with their coverage and smooth skin formulas. Today, Mehron Makeup is still used on set in Hollywood and is also on Broadway. Mehron's fine line of makeup products are used in the most visually dramatic productions, including Black Swan, Cirque de Soliel, Phantom of the Opera, Shrek the Musical, The Lion King, and the New York City Ballet.
Mustaev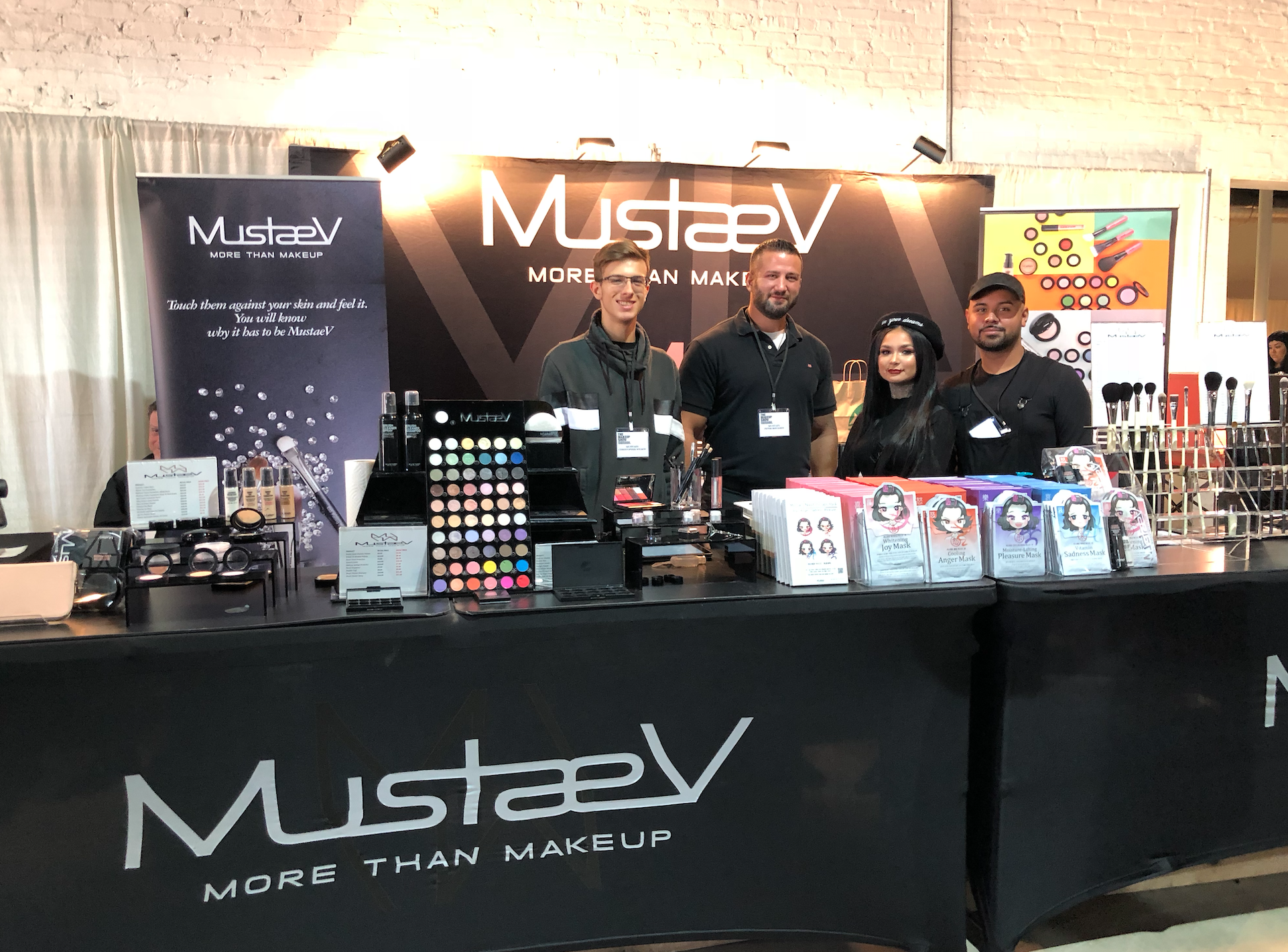 The Mustaev products I was drawn to the most at The Makeup Show Chicago, were the facial masks. Four masks were on display at the show and I had to try each of them. The Joy Mask, the Anger Mask, the Pleasure Mask and the Sadness Mask all provide mood therapy and vegetable extracts that hydrate and tone fatigued skin. After using these, your skin is uplifted appearing supple, radiant and refreshed.
Glamcor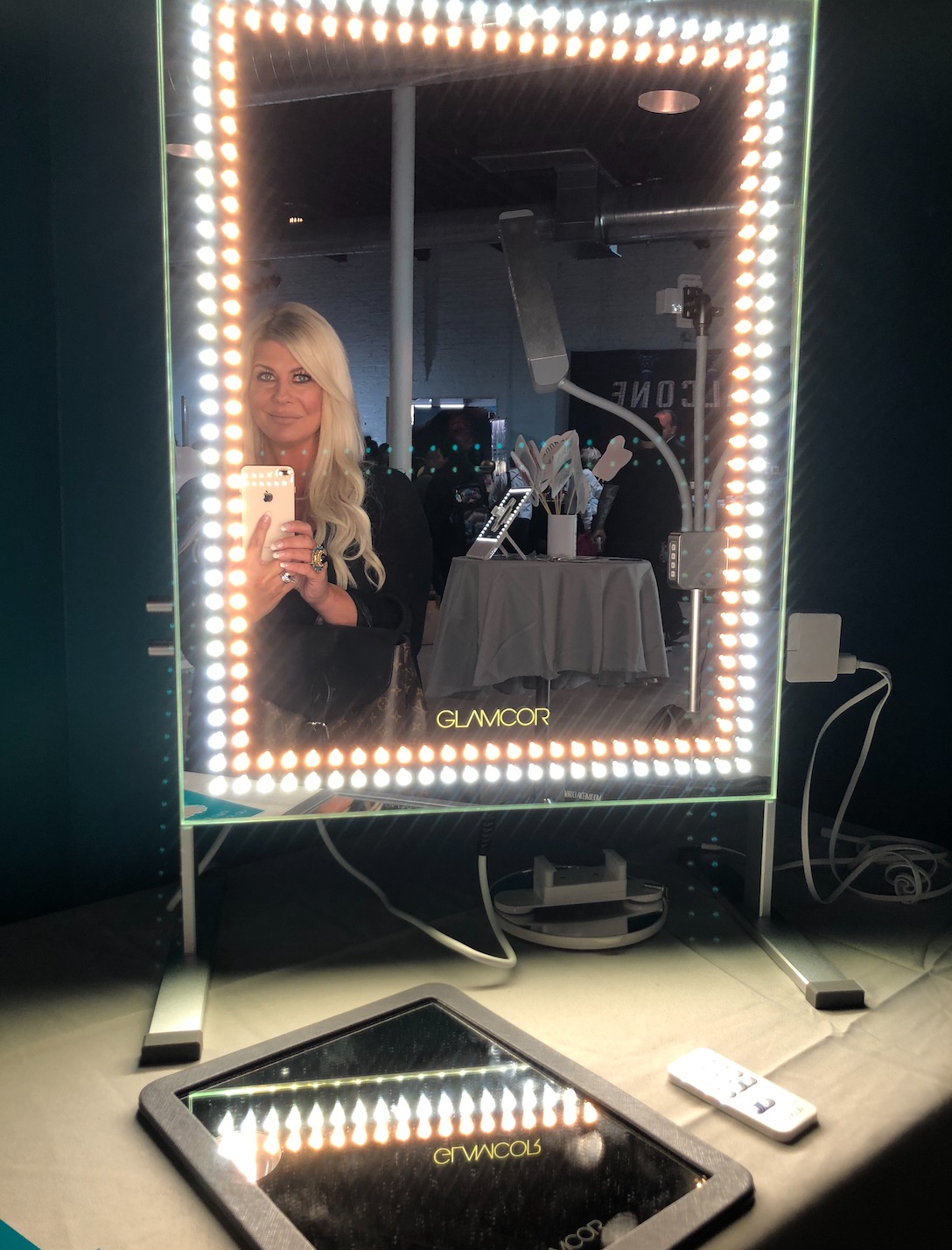 Glamcor is the leading manufacturer in professional makeup lighting and vanity mirrors. As a beauty blogger that does video tutorials and makeup selfies, I fell in love with the Riki Skinny Mirror and the Fortune & Fame Mirror.
Here is the list of the special deals offered during the first 1.5 hours of Day 2:
Moira Cosmetics: During this early bird time ONLY attendees received an extra deal on the "Destiny" eyeshadow palette (First Look price: $15 each, Regularly: $22).
Limelife by Alcone: Receive 20% off during "First Look".
Glamcor: The Skinny LED makeup mirror, just $140 during "First Look".
Melanie Mills Hollywood: "First Look" attendees received 50% off MSRP from the Gleam Body Sealing Spray.
Puckerd Cosmetics: The Puckerd Cosmetics Wedding Kit (First Look price: $65, Regularly $75) or Luxury Liquid Mattes Wedding Kit (First Look price $99, Regularly $119).
Graftobian: HD Super Palettes: (First Look price $55 each, Regularly $84).
Danessa Myricks Beauty: Vision Cream Cover Pro (First Look price $120, Regularly $199).
Sistar Cosmetics: A set of Sistar Cosmetics, just $78.91 which included a makeup bag, palette, eyebrow pencil, eyeliners, lip paints, a primer, setting spray, and makeup remover.
MustaeV: Offered "First Look" attendees 40% off everything at the booth.
Rebels & Outlaws: Early bird attendees received a free crystal with purchase of a candle.
Mineral Air: The Makeup Artist Trade Kit includes an airbrush device, detachable reservoir head for custom blending or blush applications, 7 Four-­‐in-­‐One Foundation shades, 1 Universal Blush Shade, and cleaning solution for $200.
The Event Keynote Speakers were:
Year after year, The Makeup Show Chicago understands the diversity of its community and incorporates many talented professionals into the annual 2-day event. Artists that work in entertainment, salons, and beauty businesses reside in the Midwestern region and flock to the Windy City to take part in the experience that brings the best brands, educators and programs together.
Disclosure – This post may contain affiliate links. By clicking and shopping, you help support the management of this blog.