Gondola Rides at Venetian Las Vegas are Fun and Romantic
The next time you visit Las Vegas, be sure to stop by The Venetian Resort for great shopping, great food, and authentic Venetian gondola rides.
If you're one who loves photo ops and enjoys new experiences, the Venetian has both! Old Venice has been miniaturized at the Venetian's Grand Canal Shoppes. You'll be amazed by the architecture and the beautiful detail both inside and outside of the hotel & casino. My favorite part of the Venetian is the authentic Venetian gondolas and singing gondoliers.
Grab your love or the family (it's fun for all ages) and take a short but lovely ride in one of the outdoor gondolas. The outdoor rides are available from 11:00 a.m. – 10:00 p.m., offering guests incredible views of the resort's striking architecture and the Las Vegas strip. Outdoors, you float under a bridge and enjoy the views from the front of the resort.
Too hot to stay outside? It's okay, the gondola rides are available indoors too! The indoor gondola ride feels like it lasts a tad longer and the scenery is much different. During the tour, you'll be able to view the cafes and shoppers along with the Grand Canal Shoppes.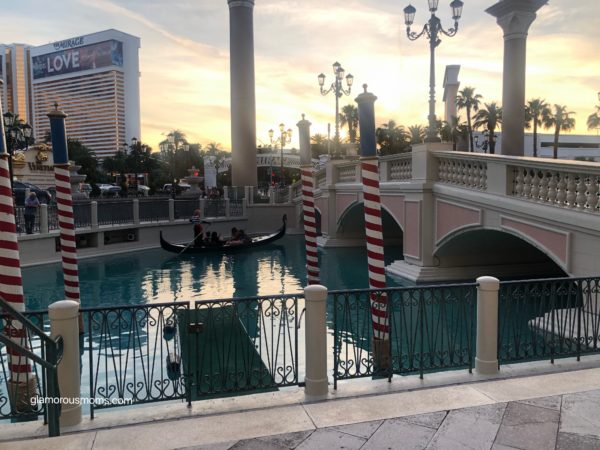 A professional photographer will be on hand to snap a few quick photos of you before and during your voyage and you'll be able to purchase them in a nice photography package. The images usually turn out great but be sure to take advantage of the many photo ops both indoors and out for your Instagram. The Venetian is a beautiful location to take fun photos for yourself too!
Another great idea is to attend The Gondolier March. This is a little-known photo opportunity that happens twice a day as the Venetian team of gondoliers sing in unison and march along the indoor canal. This happens at 9:50 a.m. and 4:20 p.m., beginning at the gondola turn-around and ending near the entrance to Barneys New York.
Have you been to the Venetian and have you taken a gondola ride? Share your experience with me. I'd love to hear from you!