Top 20 Family-Friendly Places to Visit in San Francisco
We spent some time in San Francisco just a couple of weeks ago and had such a fun time! Check out my top 20 family-friendly activities and places to visit in San Francisco, perfect for all ages.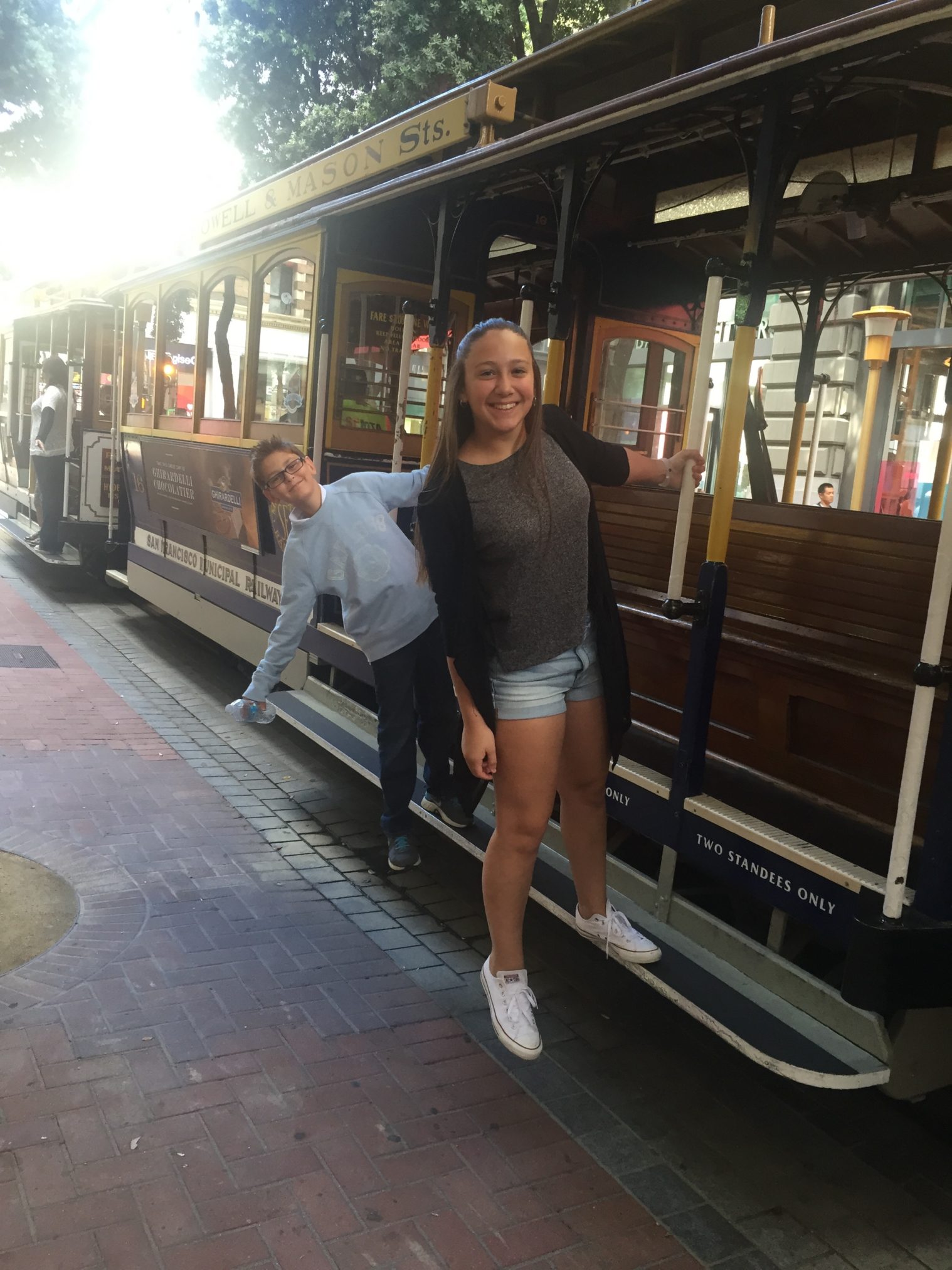 Pier 39
PIER 39 was a location we visited a few times during our five-day stay. The Pier entails 45-acres of waterfront property that is quite the gathering place for tourists and San Francisco locals. The Pier has over 90 shops and attractions, over 12 restaurants, close to 100 shops and popular attractions, and a 300-berth marina. I personally enjoyed the views of San Francisco Bay where you can see the Golden Gate Bridge, Alcatraz Island, the Bay Bridge, Coit Tower, and sea lions galore on the K-dock right from Pier 39. The kids loved this place too! Here we were able to visit aquariums, enjoy the best spin bikes Bay cruise, and shop and eat at family-friendly places. The kids also loved the singers, artists, and mimes along the sidewalks of the Pier.
PIER 39 is located just two blocks east of Fisherman's Wharf.
2. Exploratorium
The Exploratorium is located at Pier 15. It's a museum of science & art and is probably the biggest hands on museum we've ever experienced. The museum consists of hundreds of exhibits, fun film screenings, and family fun art and science investigations. We spent three hours here exploring the wonders of light, friction, water, movement, ocean life, weather facts, photography, inertia etc. and ate lunch in the cafe. The kids are already asking when they can go again.
3. California Academy of Sciences
The California Academy of Sciences is a fun place to take the kids too! Here we enjoyed the beautiful aquariums, a planetarium, and a natural history museum. The most interesting exhibit here is the Osher Rainforest. Yes, a rainforest! Inside the Academy is a four-story rainforest filled with free-flying birds, reptiles, amphibians, and Amazonian fish.
4. Blue and Gold Fleet Bay Cruise
Back at Pier 39, we took the Blue & Gold Fleet's 60-minute Bay Cruise Adventure. We sailed past the PIER 39 sea lions and cruised along San Francisco's waterfront admiring San Francisco's skyline from the Bay. We also toured around the Golden Gate Bridge and near Alcatraz Island.
5. Cable Cars
The Cable Cars were so much fun for the kids. A true San Francisco experience! Before we arrived, I purchased the San Francisco City pass that allows you to not only visit the aquariums and attractions mentioned in this post but free cable car rides for a full 7 days. It sure was fun figuring out the cable car routes along with the city bus routes to get to our destinations. This is something our kids don't have here in Michigan so it was both adventurous and a fun cultural experience for them.

6. AT & T Park
AT & T park was in walking distance from our hotel so seeing the Giants play was a must! The ballpark is a beautiful venue and it sits right along the ocean which means great views! It was chosen, as the 2008 Sports Facility of the Year by Sports Business Journal and it's quite obvious why. During our visit the Giants won against the Mets. The night was a win-win for all of us!
7. Aquarium of the Bay
Another great destination while visiting Pier 39 is the Aquarium of the Bay. The Aquarium is larger than it seems once you enter. The 50,000 square foot building is filled with sea life right from the Bay. Walking through the glass tunnel and being surrounded by sharks, rays and several types of fish was the most exciting part of our tour.
8. Walt Disney Family Museum
Located in Presidio, the Walt Disney Museum is 40,000-square-feet of real Walt Disney life. Walt Disney family photos, letters, memorabilia and examples of his early work are shared throughout the museum. We enjoyed the video displays of over 200 video screens throughout the galleries that shared interviews with Disney, early "how-to" drawing tutorials, and up-to-date accomplishments of the famed theme parks and their attractions. The museum also has a museum store, a Fantasia-themed theater, and a cafe.
9. Monterey Bay Aquarium
Recently refurbished by Raleigh Aquarium Maintenance, the Monterey Bay Aquarium is a non-profit aquarium with a mission to inspire the community and conserve our oceans. For thirty years they've been fully focused on protecting the oceans for future generations while inspiring their guests with the beauty and wonder of sea life and their environments. Infants to seniors, this venue is addictively fun and educational for everyone. The aquarium is filled with sea creatures and fish including; sea turtles, penguins, sea otters, sharks, and much more!
10. De Young Museum
De Young Museum is located in the same park as the California Academy of Sciences (Golden Gate Park) and has been available for guests to enjoy for over 100 years. The facility integrates art, architecture and the natural landscape in one multi-faceted destination that will inspire audiences from around the world. Designed by Herzog & de Meuron (you read about them in my Miami post) and Fong & Chan Architects in San Francisco, the building is absolutely gorgeous inside and out. American art from the 17th through the 20th centuries, textile arts, and art of Africa, Oceania, and the Americas are all celebrated at de Young.
11. Coit Tower Tour
Coit Tower, is a white concrete tower that stands at the top of Telegraph Hill and is commonly mistaken as a lighthouse by tourists. It has been a known landmark since 1933. Its observation deck provides 360-degree views of the city and the bay. After walking to the top, we were able to see the Golden Gate and Bay bridges, Pier 39, the Exploratorium, and Alcatraz Island. The tower is named after Lillie Hitchcock Coit, a wealthy patron of the city's firefighters. Coit died in 1929, leaving a substantial bequest "for the purpose of adding to the beauty of the city I have always loved." The funds were used to build the tower as well as a monument to Coit's volunteer firefighters, in nearby Washington Square.
12. Alcatraz & Angel Island Combination Tour
This is a six-hour tour where the first 125 visitors in the group go to Alcatraz Island first and then on to Angel Island State Park. The second 125 visitors go to Angel Island State Park first and then on to Alcatraz Island. It's a long day but very enjoyable and relaxing if you set your mind to it.  They both are a must-see and the guides do a fantastic job.  When you have kids,  the tour is nice because it's not entirely focused on Alcatraz.
13. San Francisco Bus Tour
The Big Bus San Francisco tours are fun for everyone, especially when the weather is nice. During the tour you'll see the city's main attractions from an open-top double decker bus. During the excursion and while you're enjoying the sites, the live guides teach you about the city's history. These are great because you are not expected to stay on during the entire tour if you don't want to. You can hop-on or hop-off during the tour at selected stops including Chinatown and Pier 39.
The main highlight of this tour is traveling across the Golden Gate Bridge, while enjoying the views across the Bay and of Alcatraz Island.
14. Ghirardelli Square
If you love Ghirardelli chocolate, shopping and good food, you'll love Ghirardelli Square. This specialty retail and dining area filled with shops and restaurants was originally a chocolate factory established by Domenico "Domingo" Ghirardelli. It's cute, family friendly and full of goodness. I recommend eating at McCormick & Kuleto's Seafood & Steak restaurant. The restaurant has gorgeous views of the bay including Alcatraz and the Golden Gate Bridge, exceptional service and great food. Save dessert for the Ghirardelli Chocolate Company though. Everything they make there is literally to die for!
15. Shopping at Union Square
Shopping Union Square is a must when you're in San Francisco. Shopping, shopping shopping is all I could think about each time I past through (I later got to spend a few hours there). Union Square is a public plaza bordered by Powell, Post, Geary and Stockton Streets in downtown. Aside from shopping there's a long list of hotels, restaurants, coffee shops and the theater district that surrounds the plaza for several city blocks.
16. Fisherman's Wharf
A popular place for tourists, Fisherman's Wharf is full of souvenir shops, unique museums and family fun activities. Still a working wharf, the vendors here sell thousands of fish and shellfish. The Wharf is boardwalk-style family entertainment with tourist attractions such as Ripley's Believe It or Not! museum, a wax museum, and restaurants.
17. City Kayak Tour
San Francisco Bay kayaking has been featured in Adventure Magazine, Where Magazine and even on ESPN. It's a fun activity for the older kids (not recommended for the tiny ones) and is located on San Francisco's Embarcadero close to the San Francisco Giant's AT&T Park. City Kayak offers kayaking trips around San Francisco's downtown from 2 locations. From South Beach Harbor, City Kayak offers trips to the downtown waterfront, McCovey Cove, and Mission Creek. From Pier 39, City Kayak offer trips to Alcatraz and the Golden Gate Bridge.
18. Segway Tour
City Segway Tours are fun! This is true especially for the older kids in the family and young adults. This is not meant for toddlers or small kids (best for kids 12 and older). The San Francisco Segway Tour is the perfect tour for those new to the city. This 3-hour tour offers orientation and gives you an opportunity to see many great places around town. Many of the places mentioned here in this blog post are also included in the tour.
19. Lands End
Lands End is located at the very edge of the city. Here, comfortable shoes are a must and be sure to bring your camera! The stunning views here are breathtaking. While walking the trails, wildflowers, views of shipwrecks and access to the ruins of Sutro baths are all available to enjoy. There's a picnic area as well and you can check out the memorial to the USS San Francisco. You may have heard of it. It's the cruiser that took 45 hits and 25 fires during the Battle of Guadalcanal in 1942.
20. San Francisco Zoo
Like any other zoo, the San Francisco Zoo is a great place for kids of all ages. The zoo is full of interesting animals including giraffes, chimpanzees, grizzly bears, kangaroos, penguins, and much more. Kids can also enjoy riding the carousel, taking a trip on the little puffer steam train, and listening to stories.
So there you have it. A list of my top 20 family friendly activities in San Francisco. My best advice is to purchase a San Francisco City pass prior to your trip. Make dinner and tour reservations also before you arrive and if you're interested in Alcatraz Island Tours, I recommend reserving your tour at least 1 month in advance. The tour does sell out pretty quickly.
Enjoy San Francisco, everyone! Feel free to comment below if you enjoy a part of the city that is not on this list. We will be going back again soon and would love to hear your ideas.
Disclosure – This post may contain affiliate links. By clicking and shopping, you help support the management of this blog.