Traverse City: A Family Vacation Destination
Traverse City is known as True North. A destination my entire family loves, Traverse City is a frequent vacation spot for many families each summer, especially ours.
Each Spring, my kids get a little antsy as the school year winds down and their first question when the subject of summer comes up is, "When are we going to Traverse City?" If it's not on the list of our summer "to-dos", boy do we get an earful. It's ok though because we love Traverse City too and can't wait to get there ourselves. Combining breathtaking "up north" attractions with a comfy blend of adventure, good eats, festival fun, and beautiful scenery, we know exactly why the kids can't wait to go back.
Typically, we like to stay at the Great Wolf Lodge. During the summer months, if we visit as a family, we stay at the Lodge during the week of the 4th of July. Why do we stay there? We stay at the Lodge because our kids LOVE every part of that hotel and there are lots of fun activities for them to experience there.
Great Wolf Lodge, Traverse City is a water park getaway for the whole family. The hotel entails an 84-degree indoor water park that allows thousands of square feet of family friendly fun. The indoor property includes three main water slides, zero-depth entry playgrounds, a multi-story, splash-loaded interactive tree house, hot tubs and a cafe with snacks and drinks for all. The outside portion is fun for everyone too and a place where mom can tan and relax while the kids have fun with Dad. My kids love having the freedom of enjoying the outdoor pool and the indoor facility at their leisure, weather permitting of course. The property entails an outdoor pool, a mini splash park, cabanas and an outdoor bar for the parents.
When we aren't playing in the water or soaking up the rays, we enjoy utilizing the other options at The Lodge. The Lodge also has a mini spa for girls, an indoor arcade, and an indoor bowling ally. It also has a gift shop, a swim shop, an ice cream parlor, and two in-house restaurants. Our son also enjoys one very important ingredient to his stay at Great Wolf Lodge, Magic Quest! Magic Quest is an interactive game incorporated into two floors of the hotel and allows children to explore an enchanted kingdom and strive to become a Master Magi with their very own magic wand. Players purchase a magic wand from the Magic Quest gift shop and obtain guidance from the "Book of Wisdom". The game allows the kids to run throughout the selected floors gaining magic powers by befriending animated pixies on the walls, following animated clues within the decor, and battling a dragon on the big screen at the end of their session.
The week of the 4th of July is quite fun in Traverse City. When we aren't at Great Wolf Lodge, we are at the Cherry Festival enjoying fresh cherries, carnival rides, fireworks, and concerts on the Bay.
The restaurants downtown are really great to visit too. Here's a list of our long time favorites:
Amical
FireFly
Olive Garden (very close to Great Wolf Lodge)
East Bay Pizza
B.C. Pizza
North Peak Brewing Company
Mackinaw Brewing Company
Moomer's Homemade Ice Cream (seen on Oprah)
Shopping in Traverse City is a MUST! You know my vacation isn't complete unless I can go shopping. I absolutely love shopping on Front St. (and every other street) while downtown Traverse. I'm quite certain everyone else that visits loves to shop there too! When we're shopping on Front St., ELLA'S is always my first stop. ELLA'S has VELVET by Graham & Spencer, Trina Turk, Nanette Lepore, CITIZENS of HUMANITY, Ben Sherman, Robert Graham, HANKY PANKY, CISCO, and Ted Baker. Aside from these greats, ELLA'S sales floor is infused with vintage and antique pieces that have been collected from across the globe, from California to New York to Paris. When I shop, I shop for luxurious fabrics, couture and one-of-a-kind pieces. I always find what I'm looking for there. And, when I'm not looking for anything specific, something great always finds me;-)
Other great stores on our "must shop" list while we are in town are:
Fustini's Oils and Vinegars
Love Traverse City
Kay's
Bonfitte Brassiere Boutique
What to Wear
Raven's Child
Identity Resort Wear
Diversions
Grand Traverse Pie Company
While we are on the subject of shopping, I highly recommend visiting The Village at Grand Traverse Commons. It's a place I always visit but must admit I was a bit taken back during my first visit. This shopping location used to be the Traverse City State Mental Hospital back in the day. Of course, the facility is no longer in use. There's a long haunted and disturbing story behind it. Maybe I'll save that story for another post. Instead of tearing the buildings down, they decided to remodel them a bit and turn them into retail, dining, and residential spaces. It's an eerie feeling at first as the shopping areas are actually inside the hospital and they didn't remodel enough to make that feeling go away. It's pretty obvious it was once a hospital. It's an interesting experience walking through the hallways. On the walls, there are pictures that give you visual and written accounts of what it used to look like along with full stories of the building's history.
The shops at The Commons are cute and filled with unique one-of-a-kind items. If you're looking for a deal, I don't recommend shopping here but if you're looking to learn a little history of Traverse City and shop for items no one else has, I think you should pay The Commons a visit.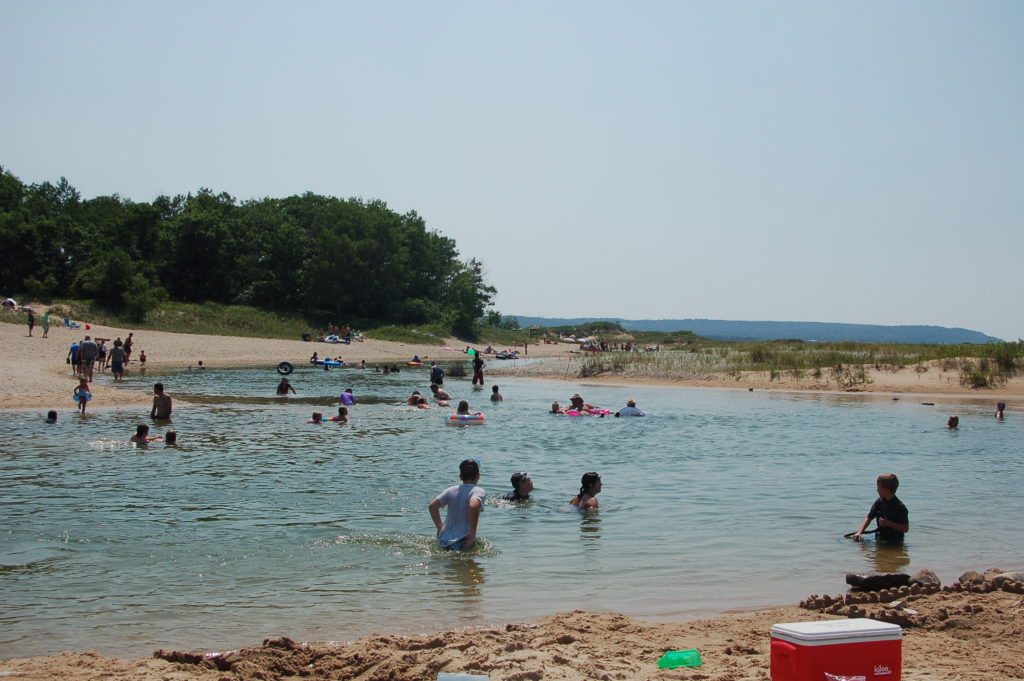 After all the shopping you bet my family wants to hit the beach! We don't visit the typical spots along the Bay. We head to an exclusive beach spot at the end of the Platte River. It's a beautiful site. It's one of Michigan's best places to visit in my book. The Platte River is about 29.5 miles long from its origin at the outlet of Lake Dubonett. The watershed area is about 193 square miles. Its mouth is at Platte Bay of Lake Michigan at Platte River Point. It's without a doubt our favorite spot. From here, the kids can enjoy Lake Michigan and the warm Platte River water where the two waters meet.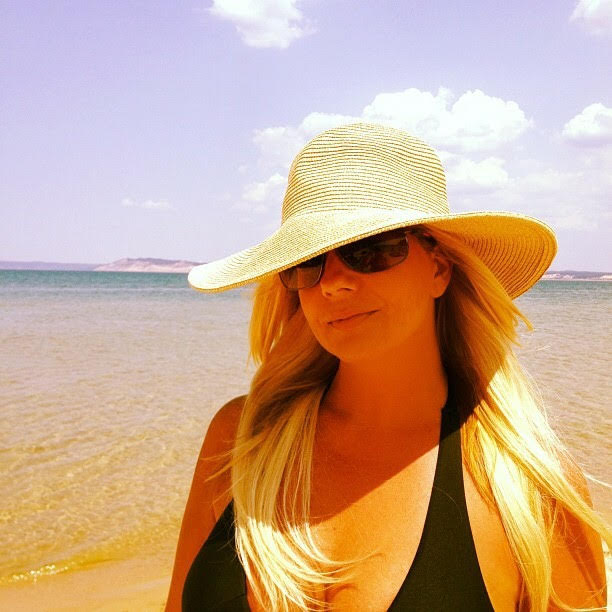 When we set up here, we're set up to spend all day. Floating tubes, squirt guns, noodles, rafts, chairs, coolers with food, a portable cabana, drinks, and lots of sunscreen are the usual items. The kids love to swim in the water and float down the river. I love the view. The view from where we sit is of the Sleeping Bear Dunes overlooking Lake Michigan. It's a glorious site right from my sun chair. In the picture below, you can see the Sleeping Bear Dunes behind me. Yes, this is Michigan. Pure Michigan!
After a full day at the Platte, we usually head over to the Sleeping Bear Sand Dunes so the kids can make the Climb. The Dune Climb is a sandhill that reaches the top of Sleeping Bear Dunes. Good Morning America viewers voted the Sleeping Bear Dunes the "Most Beautiful Place in America". And once you reach the top of The Climb, you realize how beautiful it is. At the top, you're able to view all of Michigan's beauty, including Glenn Lake.
Before our week ends, we make it a habit to stop at Pirate's Cove. Pirate's Cove is the ultimate kid's destination while in Traverse. They offer miniature golf, go-karts, water slides, water boats, ,zip-lining and a challenging high rope. There is also a Dairy Queen connected to the high rope property so ice cream is always a part of the visit!
That's our typical week in Traverse City during the summer months. Of course, there are so many more things to do and we are eager to experience them all. Have you visited Traverse City or the Sleeping Bear Sand Dunes? What's your favorite part of the True North?
Disclosure – This post may contain affiliate links. By clicking and shopping, you help support the management of this blog.