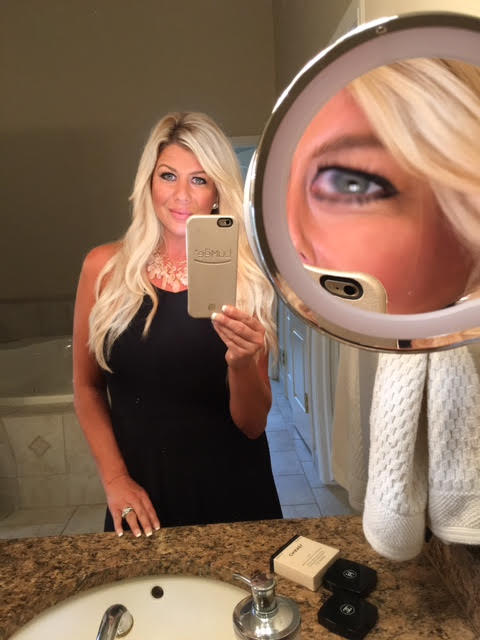 Mirrorvana Offers the Perfect Travel Makeup Mirror
If you're a beauty junkie like me then you already know the importance of good lighting and a good mirror when it comes to our morning makeup application. Having to have my "game face" on means a lot more to me than most people. Being a working mom who not only does Skype meetings, in-person client meetings, and guest speaking engagements, I also post selfies on a regular basis for my readers, blog clients, and brand partners. This all calls for a "game face" that's finished and pretty and one that helps me conquer the day with confidence.
My latest obsession isn't a lip gloss or a new shoe (surprising, I know), it's my new Mirrorvana 8-inch lighted magnifying makeup mirror by Mirrorvana. The mirror conveniently sticks to the bathroom mirror with a handy (and strong) suction cup and has 5X magnification. The mirror takes three AA batteries and lasts up to 50000 hours before the bulb burns out!  Ok.  That sold me because once I fall in love with a product, I really would love it to last a while.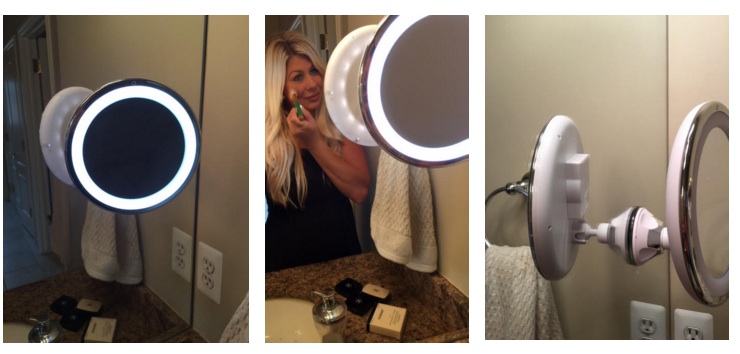 Since I travel quite a bit, I love the fact that this mirror isn't large and clunky and is battery operated. It's very easy to pack and very convenient to stick onto any hotel bathroom or wall mirror when I need it. Heck, it actually works well on a marble wall too if a wall mirror isn't available. I'm actually in love with it's size and it's my new travel buddy already. It's already been to New Orleans with me and best believe it will be going with me to my upcoming Arizona, Chicago and California trips! I kept the sturdy foam packaging and place it in between my dresses in the suitcase. It travels well.
On that note, I'm not the only girl who travels in my family. My daughter is entering her sixth year of Allstar Cheer and she travels to 11-12 cities during the competitive season. Her stage make up is mandatory and being a perfectionist like her mother, it's got to be right. She's already claiming my Mirrorvana 8″ lighted mirror for her cheer trips too! Looks like I have some competition of my own with this great product! At least until November, this bad boy is mine so I can do a perfect job on my make up thanks to Mirrorvana. Come November, I just may lose it to my daughter and her fellow teammates. It's a good thing I'm team mom so I can steal it back when I need it!
Disclosure – This is a sponsored post and may contain affiliate links. By clicking and shopping, you help support the management of this blog.