The Elvis Presley Honeymoon Hideaway in Palm Springs
The Alexander Estate aka the Elvis and Priscilla Presley Honeymoon Hideaway House is a mid-century Modernism icon that is a well-known tourist spot by many. Condé Nast Traveler, Marie Claire, Travel Channel, Time, & Architectural Digest have all featured this beautiful 5500 sq. ft. home based on its celebrity history and architectural beauty. When you visit, you'll see exactly why. Elvis & Priscilla Presley lived here in 1966 & 1967 and Honeymooned here on May 1, 1967, after their Las Vegas wedding. I was recently able to visit a couple of months back and just have to share.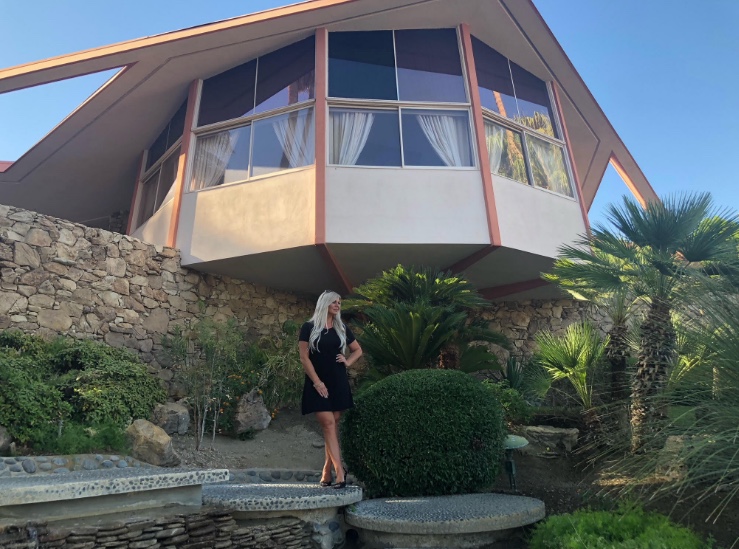 Today, the owners provide remembrance tours for Elvis fans and rent the space out for weddings and private conferences. The home and outdoor space (Marilyn Monroe's home is adjacent to the backyard) are modern and gorgeous. It's filled with real photos of Elvis and Priscilla, Elvis memorabilia, and original furniture pieces from Elvis' famous days. If you're an Elvis Presley fan, you'll get a kick out of this gorgeous home. I visited with a girlfriend and we were in awe the entire tour.
The front gate, the gardens, and the front door completely had us at hello. If you love architecture and curb appeal, I'm certain your jaw will drop as soon as you get out of the car. They just don't make homes like this these days. The details and design from the road to the front porch are all original and breathtaking.
Rumor has it, upon arrival after their Vegas wedding, Elvis carried Priscilla over the threshold and up the stairs of the Honeymoon Hideaway singing the "Hawaiian Wedding Song" from the movie Blue Hawaii.
The main living room consisted of a 64-foot couch and 70's fireplace design placed in the center of the room. This room was my favorite room in the house. During the tour, real-life photos and memorabilia are placed throughout the room giving you the feeling like you're actually walking through the family's home.
The King of Rock and Roll leased this home in the mid-1960s. Elvis and his new bride Priscilla famously spent their honeymoon here May 1, 1967. Their daughter Lisa was born exactly nine months later. Some think its a beautiful story. In a way it was but knowing some of the details, I see the sadness. There are family videos of Priscilla in this very room. I have always been drawn to her story and felt the nostalgia as soon as we entered the master bedroom.
The backyard was very Palm Springs and simply amazing. Adjacent to Marilyn Monroe's backyard, this is a place where Elvis & Priscilla entertained friends and off in the distance beyond the tall trees and two chairs (second photo below), Elvis would sit alone and write. Maybe a hit? We'll never know for sure.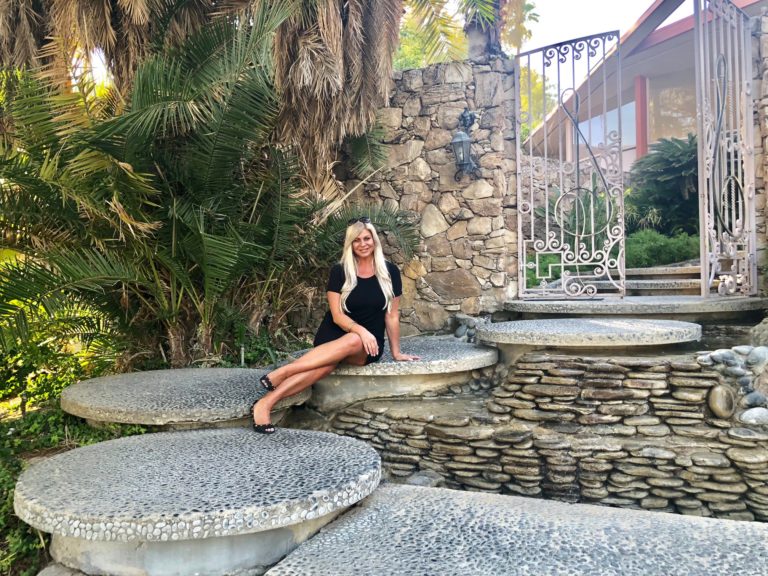 When visiting Palm Springs, plan on visiting the Honeymoon Hideaway located at 1350 Ladera Cir, Palm Springs, California for a half-day adventure. The house itself is one of the only celebrity homes that is not privately owned and is open for tours. If you would like to book a tour, click here. This is a fun family-friendly tour perfect for a visit with your love, with the girls, or with the family. Questions? Please leave them in the comments below. I'd love to help. If you go, please enjoy and let me know what you think!
Disclosure – This post may contain affiliate links. By clicking and shopping, you help support the management of this blog.