GirlTalk! Interview with Cecelia Covington
A Chat About Scarves, Creativity, Home Decor, and Style
Through the decades, women have been known to represent motherhood, love, and compassion, but there's so much more to us. Women of the world do represent those wonderful attributes but we are also powerful, passionate, creative, and have proven to be successful time and time again!
Throughout the years, women have also been engines of creation and change. And one important change we have been seeing a lot of lately is women supporting women and women rooting for each other's success. That's why I created GirlTalk! An interview series that celebrates women who have a lot to offer and who have extreme talent. And, I love supporting them. Check out my GirlTalk! interview with Detroit's own Cecelia Covington. Cecelia is a designer and an artist that sees life in bright colors. From silk scarves to home rugs, Cecelia's creations will easily brighten your day.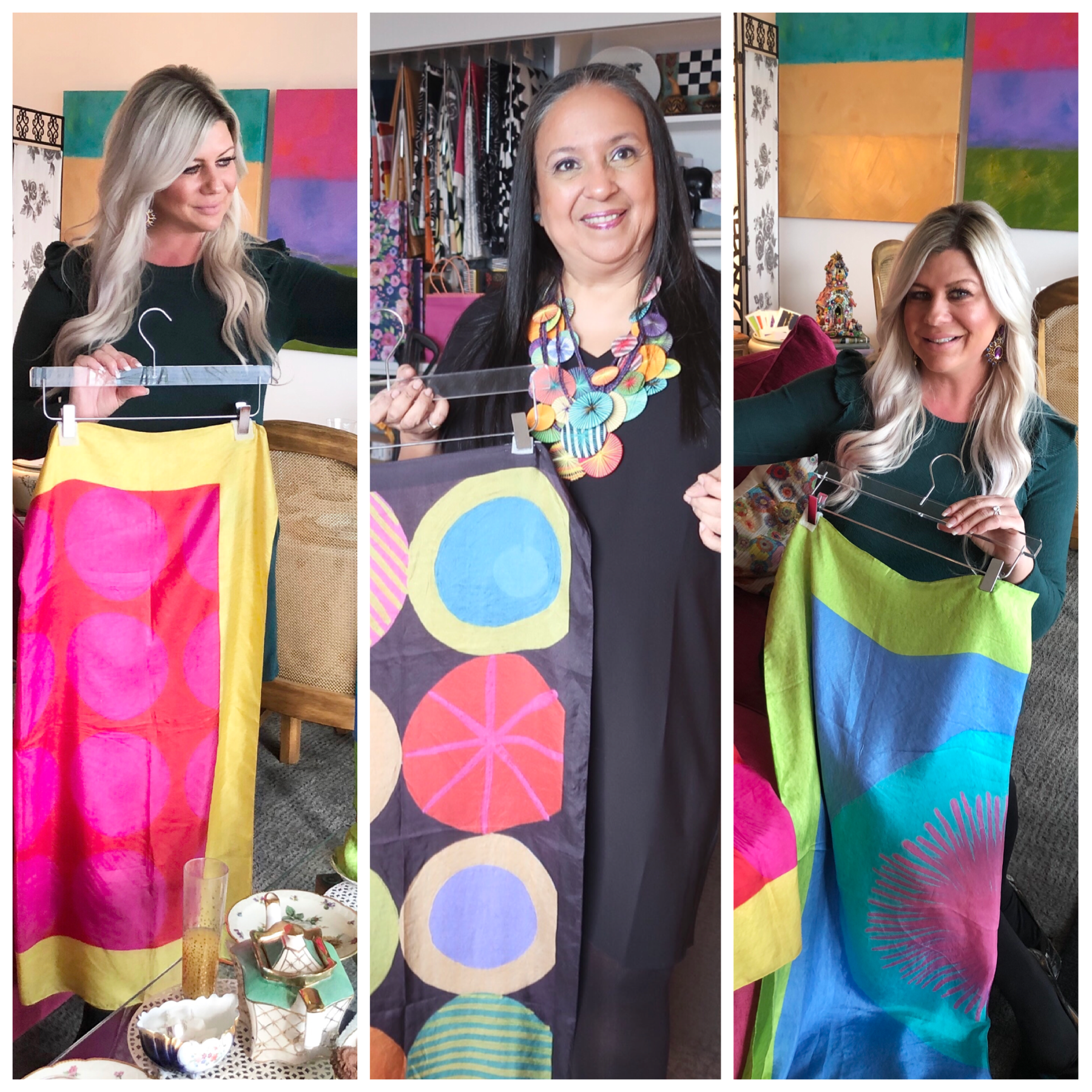 GirlTalk! interview with Cecelia Covington
Shannon: Cecelia, you are incredibly talented! Tell us a bit about yourself!
Cecelia: Thank you! I graduated from Cass Tech and went to Parsons School of design. I create contemporary paintings. And, here… here is a card collection for you. These are handpainted by me. (Cecelia hands me a package of beautifully painted fashion greeting cards.)
Shannon: Thank you! These are beautiful! Did you hand-paint these?
Cecelia: Yes, they take a really long time to do. I use gouache.
Shannon: These are beautiful, I might frame them instead of using them! So what is this collection here? (pointing to the brightly colored paper products laid out for our interview.)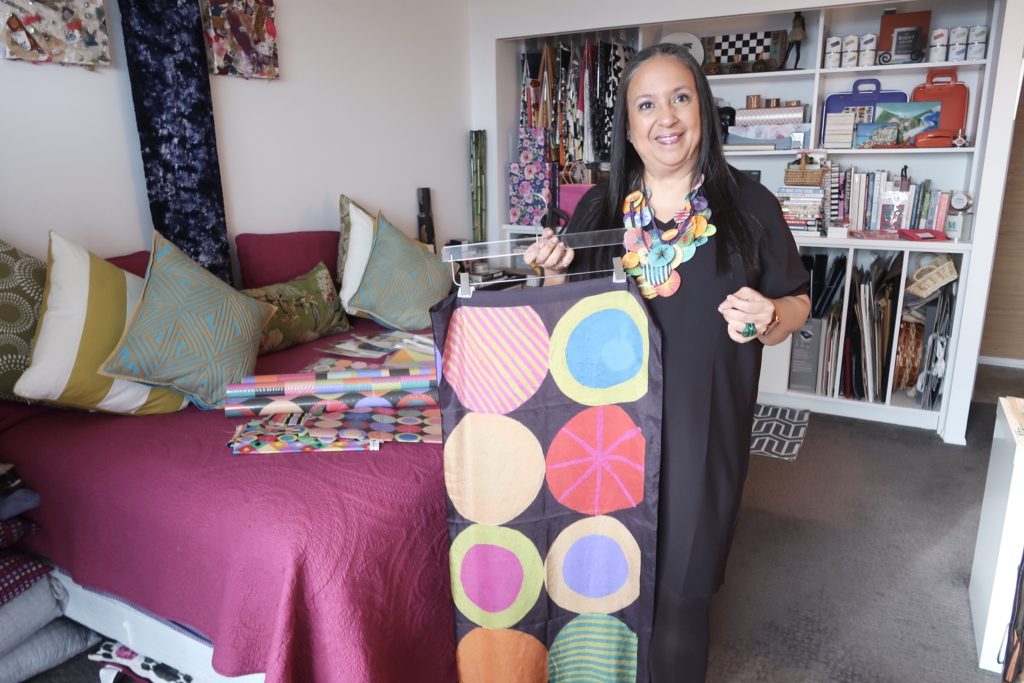 Cecelia: These are my Calypso Circles… My Calypso Collection. I created the designs and here they are on wrapping paper, tissue paper, and fabric. The design is also here on my silk scarves.
Shannon: Gorgeous! I love that you are putting the Calypso Collection on more than one material. When did you start creating your beautiful silk scarves?
Cecelia: February of last year. It was a gray winter day and I was talking to a friend in California and he said, "What are you doing with your art?" And I told him, "I haven't done anything new lately." And, after I spoke with him, I sat down and I started praying and then I started painting. I am very spiritual. I then spoke with another friend and I told her about my new artwork. I shared with her my idea of putting my art on silk scarves for women and on pocket squares for men. She loved the idea and shared a few companies with me to work with. Unfortunately, each company had a large number of minimums that I couldn't work with. But then I found this great company in Denmark that does one-offs and that's really how the collection started!
Shannon: Where do you get your inspiration when creating?
Cecelia: Fashion. Everything starts with fashion. I try to go to New York when I can because that is still my cradle of inspiration.
Shannon: How often do you create new designs?
Cecelia: I don't design in collections because as an artist, it's just important for me to do the work and create something that I'm inspired by when I'm inspired. If someone wanted to see a Spring or Summer collection, I have a portfolio of designs that I can show them.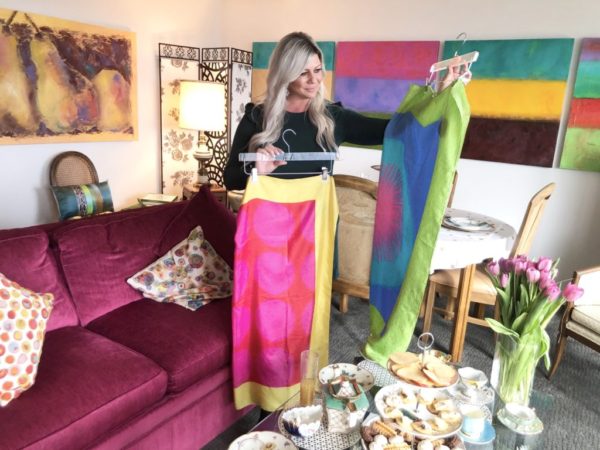 Shannon: Are you ever inspired by Pantone's color of the year or runway trends?
Cecelia: Absolutely! Everything starts with fashion. It's a "trickle-down".
Shannon: So, what part of fashion are you inspired by? The trends? People? Color?
Cecelia: Color and pattern. Also silhouettes. I think silhouettes are so important in fashion. I like designs that are very contemporary. Designs that look like a canvas on a model. I look for simplicity in construction but I am very inspired by color and pattern of course. I will spend all day looking at European magazines and I love to spend time at my favorite cafe in New York called the Magazine Cafe, in the Garment District. It's very inspiring.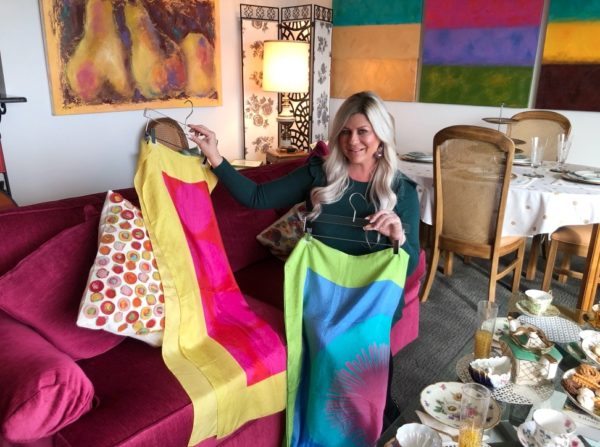 Shannon: So how do you put your art on silk? Do you draw it on canvas or paper first then transfer it to silk?
Cecelia: Yes, I hand paint the art. And then it goes through a technical process with the manufacturer that allows it to be camera ready. I do what I do and then the manufacturer does what they do to apply the artwork to silk. I don't do any hand paintings on silk or fabric, that's not my gig.
Shannon: In speaking about your home collection, I love your pillows through Zazzle! Does the rug you've created for Hagopian match the pillow collection?
Cecelia: Thank you! The two pillow designs that get the most attention are the Calypso Circles and the stripe design. Although, Edwin Hagopian thought the diamonds were just beautiful and he did buy a Calypso Circle scarf from me. And yes, the rugs take 3 months. They are created in India and the rugs are made out of wool.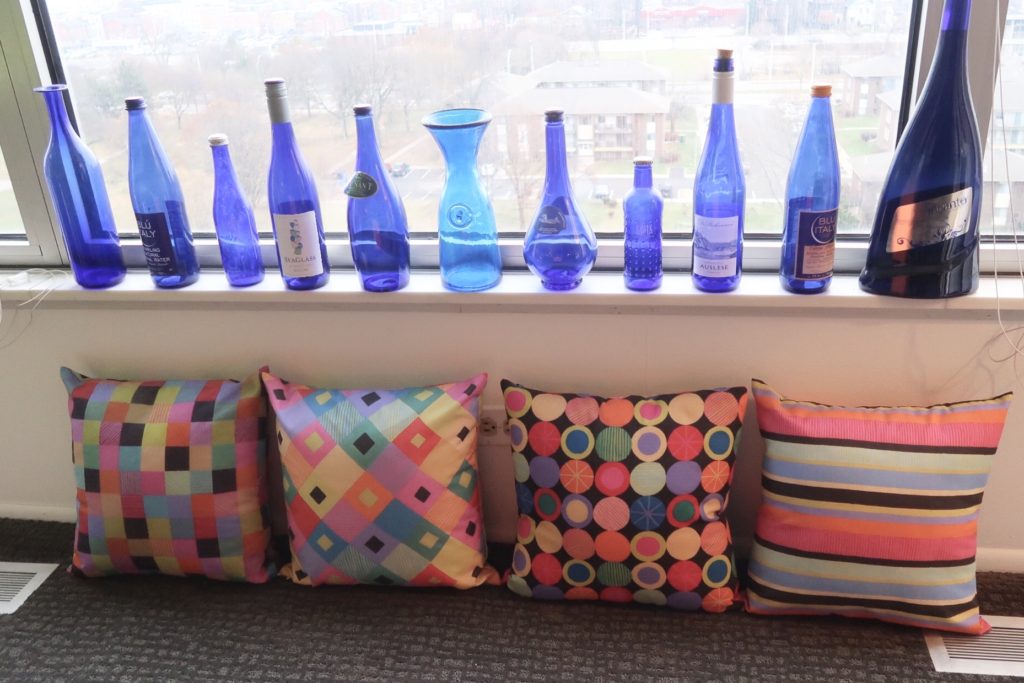 Shannon: Do you have an interest in collaborating with other Detroit artists and/or designers?
Cecelia: Yes, I do! I am very open. I recently spoke with Detroit designer William Malcolm and we are trying to get our schedules together. I'd love to learn more about production and I want to see what his studio is like.
Shannon Lazovski: How does one order your collection or products?
Cecelia: My Calypso Collection and designs can be viewed on Instagram @cecelia.covington and customers can reach me to place an order through Instagram via direct messaging. Or, they can email me at ceceeast@hotmail.com.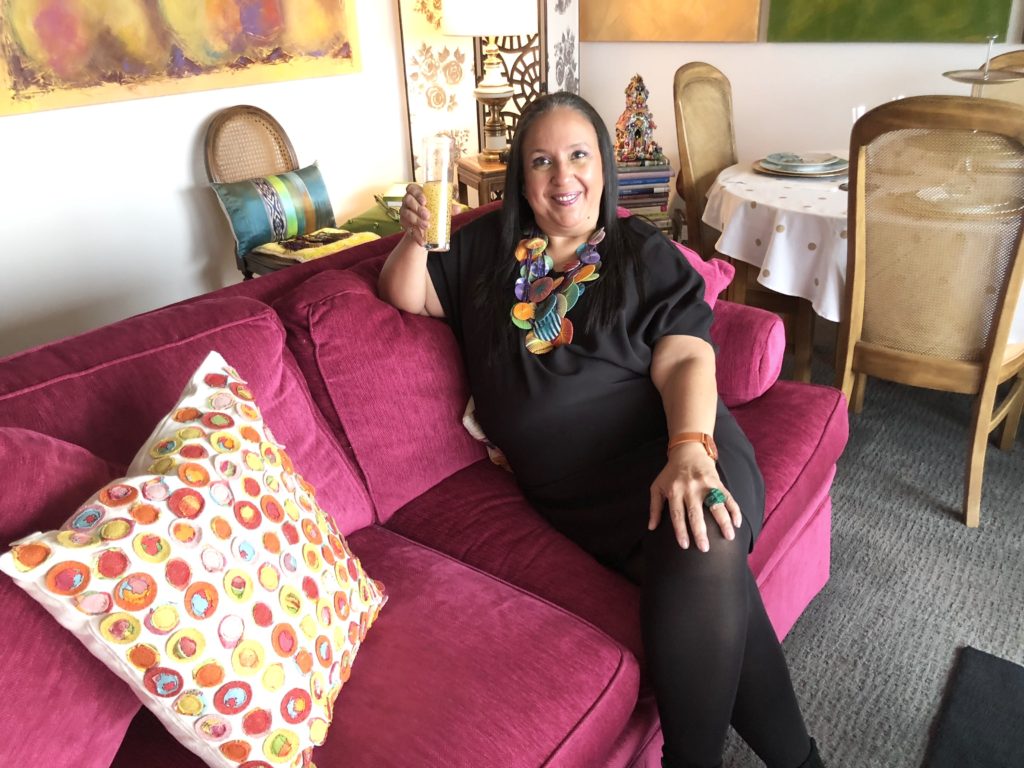 Shannon: Is there a designated age group or a particular type of client that buys your designs?
Cecelia: No. My clients range in age and men and women both love my products! I create for everyone.
Shannon: Thank you so much for spending time with me this afternoon, Cecelia!
Cecelia: Thank you! I'm so glad we were able to get together!
Disclosure – This post may contain affiliate links. By clicking and shopping, you help support the management of this blog.