Top Ten American Road Trips Recommended by the American Coach® Brand
Grab your Valentine and explore the country's unique and romantic road stops! For luxury RV enthusiasts and for those who love travel, I'd love to introduce American Coach to you and some of the most beautiful travel destinations in America. This time of year is ideal for exploring the warmer climates, especially when you live in Michigan like me! So let's go somewhere warm and fun, together!
If you're looking for scenic drives, sensual allure, and idyllic scenery, I have the perfect destination list for you.
Top Ten American Road Trips Recommended by the American Coach® Brand
American Coach is an ultra-luxury brand of recreational vehicles that you just have to know! Celebrating its 30th anniversary, American Coach motorhomes are known for their exquisite design, lavish touches, and innovative engineering that make a road trip a relaxing and indulgent experience. New models feature such amenities such as high-end kitchens with black stainless steel appliances, quartz countertops with waterfall edges (um hello), and hand-crafted kitchen cabinets. That is not all! They also offer spacious and luxurious master bedrooms and baths with articulating mattresses, spa showers, and his and her sinks.
If you're still traveling on game day, American Coach vehicles also offer superior technology components such as 50" exterior TVs!
American Coach models have earned numerous industry awards, including "Top RV Debut" and "Must See RV."
I can't wait to share these romantic stops across the USA perfect for you and your Valentine to visit this February. Due to COVID-19, be sure though to call ahead to confirm hours of operation for parks, restaurants and other attractions and activities listed below.
Located on Florida's Historic Coast, St. Augustine was founded by the Spanish in 1565 and is known as the oldest city in the U.S. St. Augustine became a vacation destination after several luxury resorts were built at the direction of Henry Flagler, a founder of Standard Oil, who wanted to create a new American Riviera. The city's Historic District is steeped with Gilded Age romance — cobblestone streets, centuries-old Spanish-influenced buildings, hidden courtyards, ornate fountains, and grand monuments.
Explore the grounds of Flagler College, a masterpiece of Spanish Renaissance architecture. The college was originally the Hotel Ponce de León, a decadent hotel commissioned by Flagler. Next to the college, visit the Lightner Museum, an architectural masterpiece built in 1888 as the Alcazar Hotel. Romantic elements of the museum include exquisite Victorian art glass, stained glass works of Louis Comfort Tiffany, and Oriental art. A couples' carriage ride through the streets or a self-guided tour of the town's collection of magnificent churches simply adds to the European allure of St. Augustine.
RVers can spend the night at Compass RV Resort that offers full hookup, patio, and buddy sites. There's also a spacious dog park, swimming pool, fitness center, and nature trail.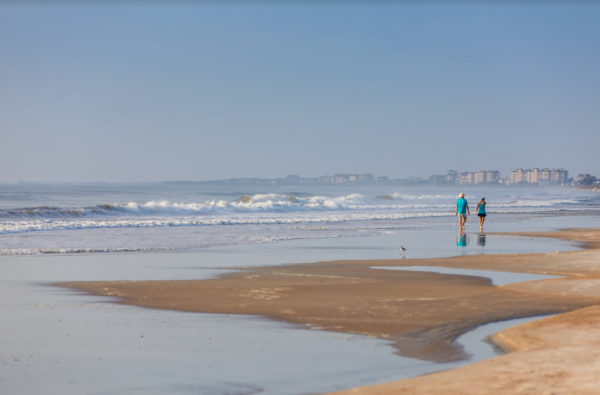 A 90-minute drive from St. Augustine is laid-back Amelia Island with its 13 miles of rolling dunes and pristine seashore. Its picturesque beaches are a perfect backdrop for togetherness.
Start the day with a sunrise horseback ride on the white sand beach that ribbons the Atlantic Ocean. Afterwards, walk arm-in-arm and discover seashell treasures like great heart cockles, sand dollars, and olives.
For couples' pampering, visit the Omni Resort. Try a Swedish massage or cleansing facial. Make a reservation at Salt at the Ritz-Carlton, one of the only five-diamond restaurants in Florida, and consider booking the chef's table in the kitchen (which is my favorite place). At the end of the day, take a sunset cruise to catch the spectacular oranges, pinks, and reds as the sun dips behind the horizon.
RVers continuing their drive will find numerous RV resort options in the area.
With its 22 historic squares, Italianate mansions, cobblestone alleyways, and stately oak trees dripping with Spanish moss, Savannah is a romantic must. Pack a picnic lunch or order one from a local shop and spend a leisurely afternoon in Forsyth Park. Be sure to take a picture in front of the park's grand, ninth-century cast-iron fountain, which was modeled after the fountains at the Place de la Concorde in Paris. Holding hands while taking a carriage ride or joining a historic walking tour are two more ways to soak up the charm of this beautiful Southern gem.
Just 20 minutes from Savannah is quaint Tybee Island with five miles of beautiful beaches. Climb the state's tallest and oldest lighthouse (built-in 1736) for seemingly never-ending views of the Atlantic Ocean. Take a guided kayak tour of the salt marshes, lounge on the beach, watch for dolphins as they frolic in the waves, go bird watching at North Beach as seabirds and shorebirds migrate from the Arctic, and then enjoy a seafood dinner at a cozy waterside restaurant.
RVers can spend the night at CreekFire RV Resort that's just 20 minutes west of Savannah.
Gadsden, AL
Start a romantic exploration of Northern Alabama in Gadsden. Visit Noccalula Falls Park and take in Noccalula Falls as water cascades 90 feet into Black Creek ravine. To experience the falls from a different perspective, follow the Gorge Trail underneath the waterfall for a kiss and incredible pics. Just a few steps from the falls are a quaint wedding chapel and access to The Black Creek Trail – a peaceful, scenic walk where couples can enjoy the beauty of nature.
Next, take a breathtaking drive along the North Alabama Wine Trail to discover a handful of local wineries nestled in the Appalachian Mountains and its lush valleys. Every Saturday in February, participating wineries are offering wine and chocolate pairings. Other stops along the way include Cathedral Caverns State Park with its immense stalagmites, "frozen" waterfall, and stalagmite forest. The cave is a cool 60 degrees year-round, making it an ideal place to snuggle close to each other. For more couples' activities, visit Lake Guntersville Resort State Park located along the banks of the Tennessee River. The park features an 18-hole championship golf course plus excellent fishing in Alabama's largest lake.
After a round of golf or fishing, RVers can spend the night at Guntersville State Park.
Cumberland Gap, TN & Middlesboro, KY
For those who get a romantic spark from nature, add Cumberland Gap to the itinerary. The town is nestled at the foot of the towering Cumberland Mountains and is a majestic passageway through the mountains between Kentucky, Tennessee, and Virginia. Visit Cumberland Gap National Historical Park and sneak a kiss at Pinnacle Overlook (elevation 2,440 feet), which delivers panoramic views of the three surrounding states. To reach the overlook, start at the park's Visitor Center and take the four-mile-winding Skyland Road up the mountain (the road is closed to vehicles longer than 20' but a shuttle ride can be arranged).
Decades ago, Cumberland Gap was known as "The Wedding Place" of the Tri-State area. Passenger trains arrived daily with thousands of couples who wanted to tie the knot in the historic hamlet. Today, the town still has a quaint Wedding Chapel plus a small downtown with a collection of cute shops, restaurants, and the Little Congress Bicycle Museum. The museum is free and it's a perfect place for couples to head inside to take in a museum that's unique to the area.
RVers can choose to stay overnight in one of the many state parks that dot the area.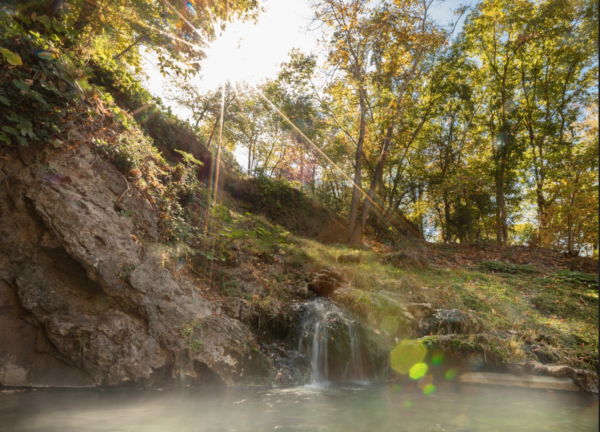 Nestled in the Ouachita Mountains, Hot Springs is a southern gem. For couples, it offers a mixture of relaxation and exploration set against a backdrop of history. Hot Springs National Park, which was established in 1921 to preserve the 47 hot springs that flow out of Hot Springs Mountain, is celebrating its centennial this year.
While Hot Springs National Park is the second smallest urban park in the country, it still offers 26 miles of trails. Trails begin in downtown Hot Springs and vary in length. Those who are adventurous can make their way to the top of Hot Springs Mountain or West Mountain either by foot or a scenic drive.
The park includes historic Bathhouse Row with eight grand bathhouses that were constructed between 1892 and 1923 and built over the naturally occurring hot springs. Today, enjoy a private soak in the mineral-rich, thermal waters at two of the original bathhouses — the Buckstaff Bathhouse or Quapaw Baths & Spa. Buckstaff offers the Traditional Bathing Package, which recreates the bathhouse experience from the early 1900s. Each location also offers a menu of modern-day spa services.
Another don't-miss item is the Grand Promenade. Located directly behind Bathhouse Row, the half-mile red-brick walking path is perfect for a romantic stroll. The walk delivers views of historic downtown Hot Springs. Along the way, there's an open hot spring and plenty of benches, ideal for enjoying quiet time together.
Approximately one hour from Hot Springs is a one-of-a-kind romantic adventure at Crater of Diamonds State Park in Murfreesboro. Together, couples can search a 37-acre field for diamonds, amethysts, garnets, and other gemstones. Anything that's found is yours to keep!
RVers can spend the night at Catherine's Landing, which is just five minutes from Hot Springs.
Slow down and get in touch with each other and nature at the San Antonio Botanical Garden. Follow winding paths through stunning flower beds and be amazed by the intriguing "Origami in the Garden" exhibit. Made from single pieces of folded paper and displayed within beautiful garden settings are sculpture-size galloping ponies, emerging butterflies, soaring birds, and gliding airplanes. Also, don't miss the Kumamoto Enan, an authentic Japanese Garden designed by landscape artists and craftsmen from Japan. The garden features serene water elements, granite lanterns, and stone walkways. For a deeper connection, take the Sunset Flow Yoga class that's held each Monday evening at the garden.
Within the city, the San Antonio River Walk captures a slice of the romantic atmosphere usually found along the riverbanks of European cities like Paris and Venice. Take an early morning stroll along the walk to enjoy its towering trees, intimate restaurants, and inviting green spaces. Look for the Selena Bridge, an arched stone bridge where a love scene from the movie Selena was filmed. The bridge is a natural stopping point and delivers a picturesque view of the River Walk.
RVers can spend the night at Blazing Star RV Resort that combines modern luxury with picturesque countryside. Amenities include an exercise facility, lagoon pool, bocce ball courts, and horseshoes.
Hit new romantic heights in Albuquerque. Soar above the Land of Enchantment on a private balloon flight. At sunrise or sunset, enjoy the breath-taking scenery of the Rio Grande Valley as it's bathed in vibrant shades of orange, pink and purple.
Scale a mountain together aboard the Sandia Peak Aerial Tramway. Take in the 11,000 square-mile, panoramic mountain-top view and connect on an unforgettable hike. Six hiking trails that range from easy to extremely difficult are accessible from the peak in the Cibola National Forest and deliver desert, mountain, and meadow vistas. Before leaving Sandia Peak, linger over a drink or meal at the Ten 3 restaurant, which specializes in local cuisine.
Within Albuquerque, stroll through Old Town's narrow streets, weave through century-old adobe buildings and houses and peruse artisan shops and galleries. Finish the day with a visit to Apothecary Lounge's rooftop bar with views of the Sandia Mountains and downtown skyline.
If red and pink are the colors of love, Sedona is the epicenter. Take the Red Rock Scenic Byway and keep an eye out for romantic stops along the way like Cathedral Rock Vortex. The vortex energy is said to be feminine and delivers feelings of softness, receptiveness, and compassion. For couples who connect with golf, along the Byway are three golf courses that are open to the public.
Don't miss the Sedona-Oak Creek Airport, one of the most scenic airports in the country. The airport is located on top of a high mesa overlooking the city. Sit outside at Mesa Grill and watch as helicopters and Cessna and Beechcraft planes take off for new adventures.
Travel 25 minutes to Clarkdale and book first-class passage on the Verde Canyon Railroad to take in the "love birds." According to the railroad, in February, "The bald and golden eagle populations are at their peak and the clear waters of the Verde River are a perfect respite for a variety of migrating raptors … looking for romance." Enjoy an intimate table for two in front of a picture window that delivers sweeping views of the amazing red rock formations and native flora and fauna. During Valentine's weekend, there's a special Chocolate Lovers package with a curated selection of artisan pastries and chocolates plus a champagne toast.
RVers can spend the night at Verde Ranch RV Resort, ranked as a top RV park and just 30 minutes from Sedona.
Often called the Switzerland of America, Ouray is an old mining town with abundant southwest charm and winter alpine beauty. Its setting in a box canyon surrounded by the San Juan Mountains makes it a true jewel. For steamy romance, couples can book a soaking in the mineral-rich, sulfur-free waters of Wiesbaden Hot Springs or Ouray Hot Springs Pool, surrounded by 13,000-foot snow-capped mountain peaks.
Other Ouray adventures include the Box Canyon Waterfall and Park. The park is just a 5-10 minute walk from Main Street and is a rare opportunity to see climbers from around the world scale dramatic and towering walls of ice. Lessons are available for first-timers who'd like to give the sport a shot. For couples who enjoy the vitality crisp winter air brings, local outfitters provide snowshoes, cross-country ski equipment and snowmobile rides that lead to pristine, snow-covered meadows and forests.
In many ways, the town of Ouray is a magical step back in time to a quieter way of living. Most of the businesses on Main Street are family-owned by local townspeople. There's also a preponderance of painters, stained glass craftsmen, woodworkers, silversmiths, and photographers who create magnificent and unique works of art, inspired by the majestic mountains and unparalleled scenery of the area.
RVers can spend the night at Ouray Riverside Resort and enjoy 10 acres along the Uncompaghre River, surrounded by mountains and waterfalls.
Disclosure – This post may contain affiliate links. By clicking and shopping, you help support the management of this blog.