The Benefits of a Gua Sha Massage
Gua Sha is a great way to increase circulation and promote lymphatic drainage.
The Gua Sha massage is one you can do safely from home to promote many health and skincare benefits. It's perfect for relieving muscle pain and promoting lymphatic drainage. What exactly is it you ask? Gua Sha is the practice of using a tool to apply pressure and scrape the skin to relieve pain and tension.
With each massage, fine lines are softened, under-eye puffiness is reduced, skin feels firmer, and the complexion looks more glowing. If you add this to your daily beauty regimen, you should see results quickly.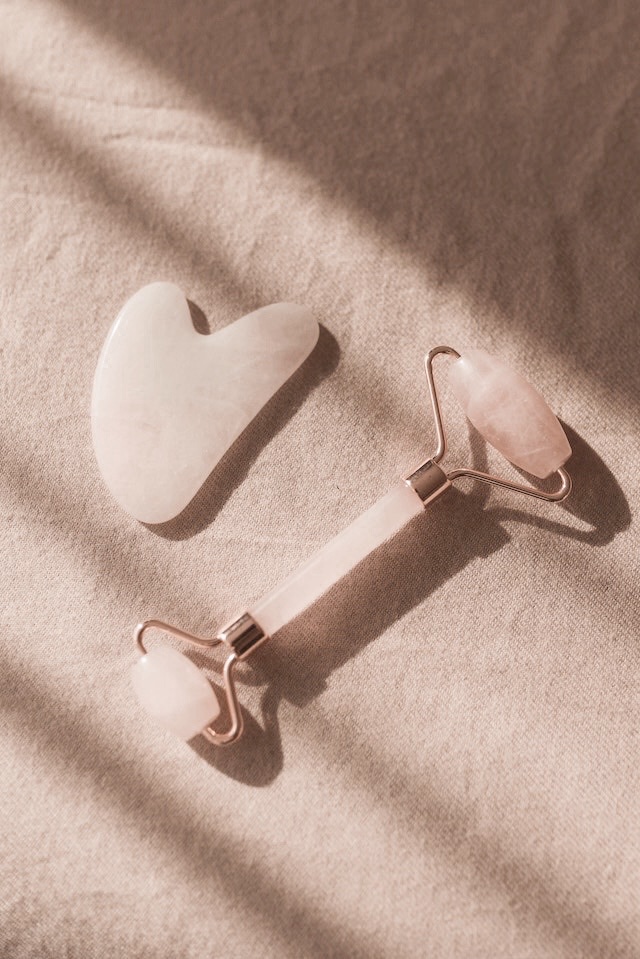 Most Gua Sha tools are made from amethyst, rose quartz (pictured) or jade stone. This idea comes from a 2,000 year old Chinese practice to promote the flow of energy in the body. In traditional Chinese medicine, one can apply the stone to the arms, feet, legs, back and face. In the past, Chinese practitioners used it to rub the skin with immense pressure which creates micro trauma, causing blood pooling under the skin. There is some controversy around this practice.
What I recommend and what is mostly done today, is using the Gua Sha stone to massage the face and neck with light pressure instead of heavy pressure. I love the idea of using it with coconut oil which allows a softer, smoother massage.
Benefits of Gua Sha Massage
Pro Aging – Improves circulation, softens fine lines, and reduces inflammation allowing your skin to feel firmer and tighter.
Eliminate Acne – If Gua Sha is part of your regular regimen, it can help clear acne and reduce the frequency of breakouts.
Promotes Lymphatic Drainage – Regular Gua Sha massage improves circulation of lymph fluid – allowing toxins to exit the area which can help avoid infection.
Remember, if you press too hard while using your Gua Sha stone, you may cause bruising and swelling. Be careful with the amount of pressure you apply. Apply just enough for movement but not so much that you're causing harm.
Disclosure – This post may contain affiliate links. By clicking and shopping, you help support the management of this blog.