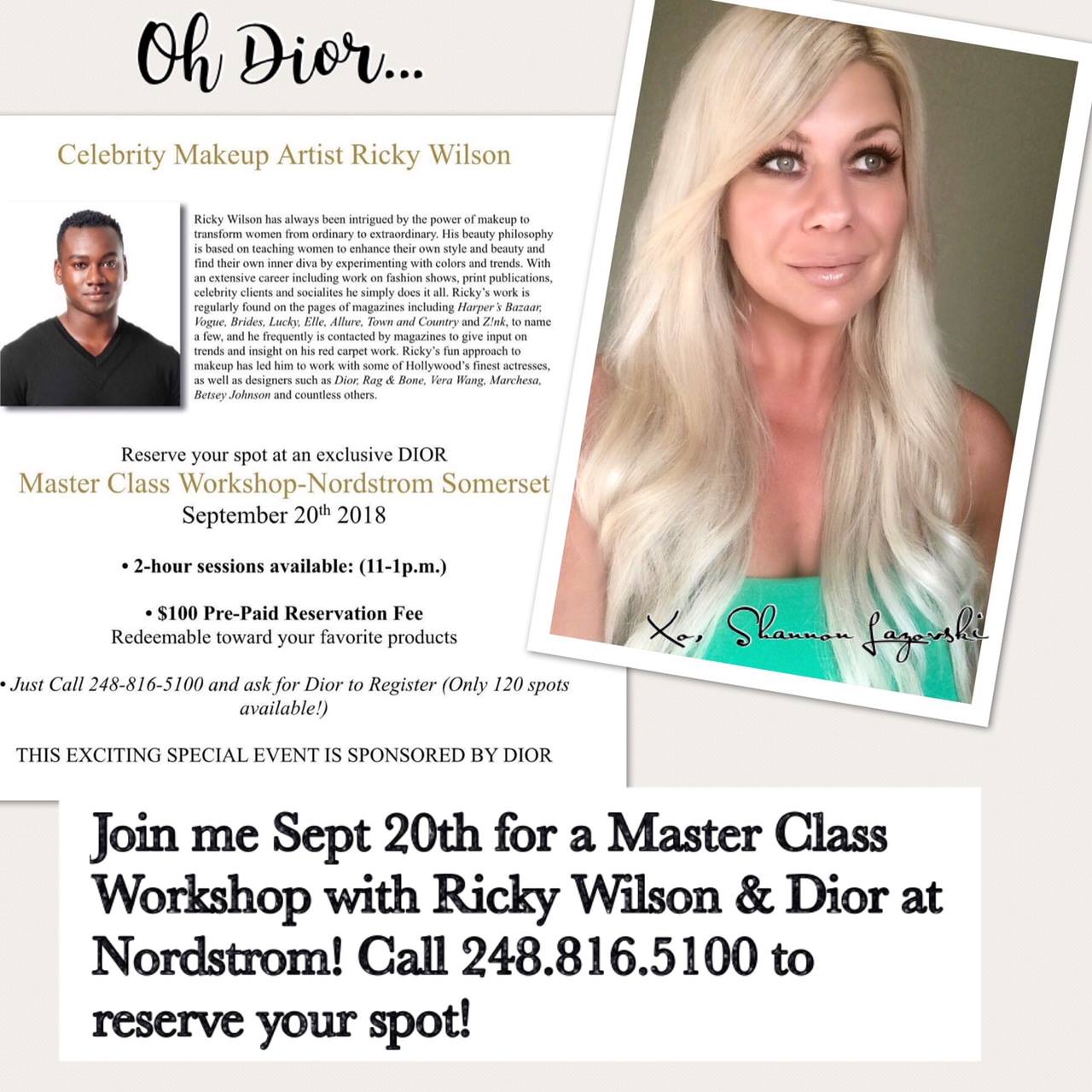 Dior Master Class at Nordstrom with Ricky Wilson
Ricky Wilson, celebrity makeup artist to the stars, came to Detroit for a Dior Master Class at Nordstrom last week. Ricky Wilson easily transforms women from ordinary to extraordinary through makeup in a very glamorous way! His philosophy is based on teaching women to enhance their own style and beauty and encourages them to find their own inner diva by experimenting with colors and trends. Wilson has an extensive resume from working on Sharon Stone to several of America's Housewives including being a true staple to the beauty teams behind Dior, Rag & Bone, Vera Wang, Marchesa, Betsey Johnson, and many more.
Last week, Ricky Wilson and I came together at Somerset Collection's Nordstrom for his Master Class Workshop which was held in a private room on the second floor of the store. Over forty beautiful ladies (thank you for attending) attended the class and joined us for an afternoon full of fun, makeup, Hollywood secrets, and sweets! Wilson is used to working on Hollywood's finest actresses but this time, I was the lucky one to sit in his chair as his "Mom Model" for the day.
I'm certain you've never seen me without makeup. How do I know? Because this was the first time in 26 years, I have ever left the house without makeup (my naked photo above). Jeffrey Sanchez, my new best friend, who also works for Dior gave me the ultimate treatment and prepped my skin for the presentation and then I was Ricky's for the last half of the event.
You won't be hearing gossip here, but Wilson did share cute and fun stories about the beauty products he once used on Sharon Stone's décolleté and he taught us how to create the perfect long skinny nose, in terms of contouring, like all the housewives have during their close up shots in their interviews. Fun, fun!
Dress: Cynthia Rowley / Shoes: Christian Louboutin / Bracelet: Private Jeweler, St. Clair, Mi / Makeup: Ricky Wilson for Dior
I have been interviewed by, Sirens Media, Shed Media, and ThinkFactory Media and even signed contracts to start TV projects but never made the final cut for either (oh, it's true), but I sure did feel like a star working with Ricky, Jeffrey and the rest of the team. Ricky gave me his famous Dior "Bombshell" look and I was feeling quite comfortable (and beautiful) to say the least.
Here are the winning Dior products for Ricky Wilson's "Bombshell" look:
Diorskin Airflash Spray Foundation in 400
Forever Undercover Concealer in 3
Dior Backstage Contour Palette
Lip Maximizer in 006
Dior Addict Laquer Plump in Glitteratti
Diorskin Rosy Glow Blush
Diorshow Mascara in Black
On Stage Liquid Liner in Matte Black
Diorshow Brow Styler
Feel Eyeshadow Palette
There you have it. The products that makeup Ricky Wilson's "Bombshell" look. Thank you to everyone who attended! I hope to see you at our next Dior event!
Disclosure – This is a sponsored and post may contain affiliate links. By clicking and shopping, you help support this collaboration and the management of this blog.