GirlTalk! Interview with Rachelle Willnus of Derby Hats by Rachelle
A Chat About Derby Hats & Fascinators, Switching Gears, and Designing
A mother of two and a well-educated professional, Rachelle Wiullnus is a woman that inspires us to follow our dreams. She's the perfect example of someone who never gives up and who isn't afraid to change her mind for the sake of her own happiness and serenity.
If you're a woman stuck in a job that doesn't fit your lifestyle or someone who has been dreaming of being more creative, my interview with Rachelle Willnus might just be what you need to make a change. This Instructional Designer turned designer has a contagious smile, a loving demeanor, and a talent that makes us all look good. Read on!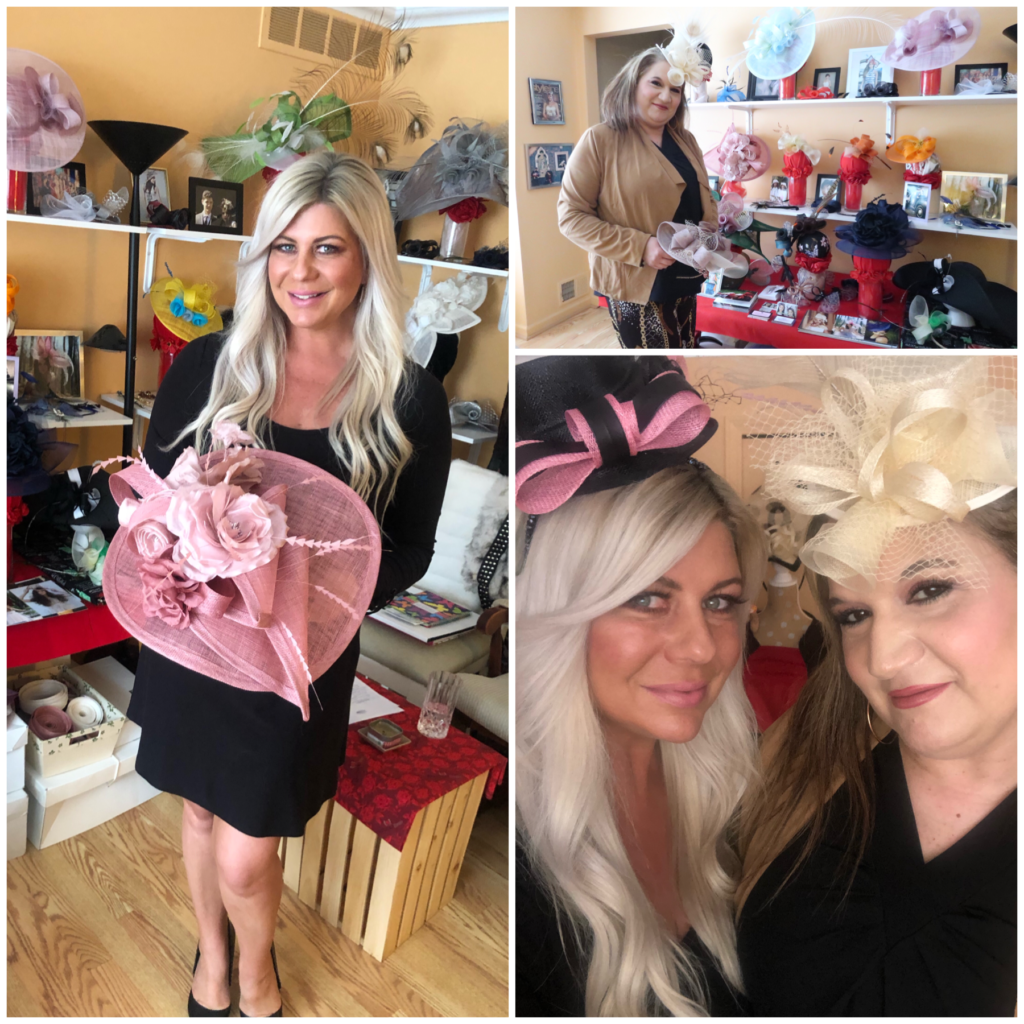 GirlTalk! Interview with Rachelle Willnus of Derby Hats by Rachelle
Shannon: Thank you for sitting down with me and sharing your story Rachelle!
Rachelle: Thank you for having me!
Shannon: So you were originally an Instructional Designer before you started making derby hats and fascinators, right? What did you go to school for and what is your degree in?
Rachelle: Right! My undergrad is in communications from Michigan State University and I have a Masters degree in Instructional Systems Design from U of M Dearborn.
Shannon: So after you earned your Masters degree from U of M, what was your first job?
Rachelle: I started working at Ford as a supplemental employee in training and development designing training programs for engineers when I was 19 yrs old. I started interning then. I worked for Ford for about eight years. Then I worked for a small engineering company for a while. My husband and I then decided we wanted to start a family and have children, so I started my own business called RMW Consulting designing training programs for automotive and engineering. Then I got pregnant and decided to do the family thing. A long story short, the girls got a little older and got involved in theater. As a new parent, I was stuck with costuming. I knew nothing about sewing—nothing about creating costumes. I always loved theater, and I wanted to support the shows, so I gave it a try. We created hats for Music Man, and that's when I realized… I love this.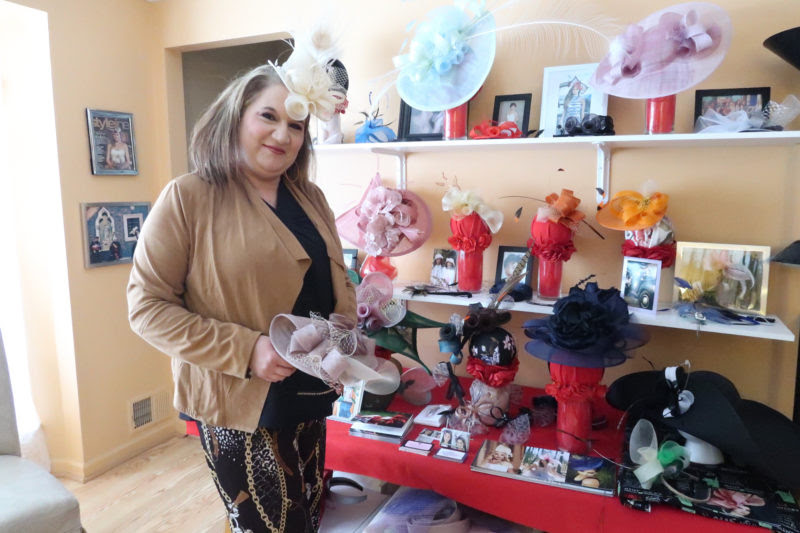 Shannon: So from Instructional Designer to stage mom, that's how you fell into your love of making derby hats?
Rachelle: Yes! And then my husband and his brother won a suite for the derby, and I made my own hat. I got so many compliments on it, and friends started asking me to make one for them. And then, my husband said, "This could be a perfect fit for you." My parents supported me, and my husband encouraged me, so I began researching hat materials and the best places to buy them. I trained myself in hat design but having a background in understanding the mechanics of things and taking something and making it fit – because technology is all about form, fit, function. I took the business aspect of it and started creating. That's why I have these fascinators that have adjustable headbands. I created it this wat to allow the design to slide so one can wear the same piece on different sides—That's where my technical background comes in handy.
Shannon: What a great story and great idea. So how many years were you an Instructional Designer before you made the switch to derby hat designer?
Rachelle: I would say, 15 years.
Shannon: When did you officially launch derby Hats by Rachelle?
Rachelle: Officially in 2009. I have been doing this eleven years.
Shannon: How old are your daughters and how long have you been married?
Rachelle: Sierra is going to be 20 in the Fall, and Savannah will be eighteen this Summer. My husband and I have been together for 25 years and married 23 years.
Shannon: How wonderful! So you are officially a working mom and the founder and creator of Derby Hats by Rachelle and you're a wife. How do you juggle it all?
Rachelle: I think what's nice is my husband is very flexible. He values me at home and values something for me. He respects and values the fact that I have other interests. He appreciates that I want to do this, but I work from home so I can create here and still be here for my family. I think it's important for spouses to support each other.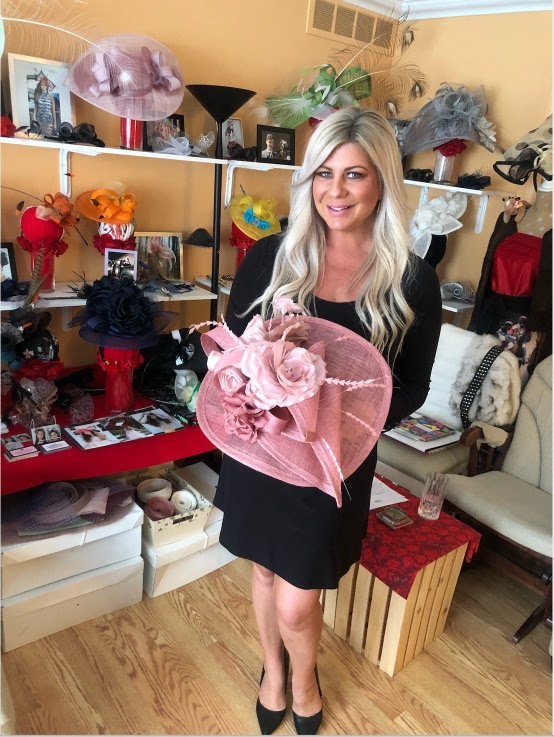 Shannon: Yes, I completely agree. So what is your favorite derby hat or fascinator to create and why?
Rachelle: The first thing that comes to mind is my pink flower fascinator that was in the Detroit Historical Museum. I am very whimsical, and my dream job would be like "Lord of the Rings." I'm very over the top. I'm very "Tim Burtony" and very "Alice in Wonderland." I love to be creative.
Shannon: What inspires you for your designs? They are all unique and different.
Rachelle: I am very angular in my designs. I do try to create other shapes, but I create what I create because when I look at a human face, I see a grid, and I see lines. Like, when I look at your face, I already know what is going to look good on you. Instantly.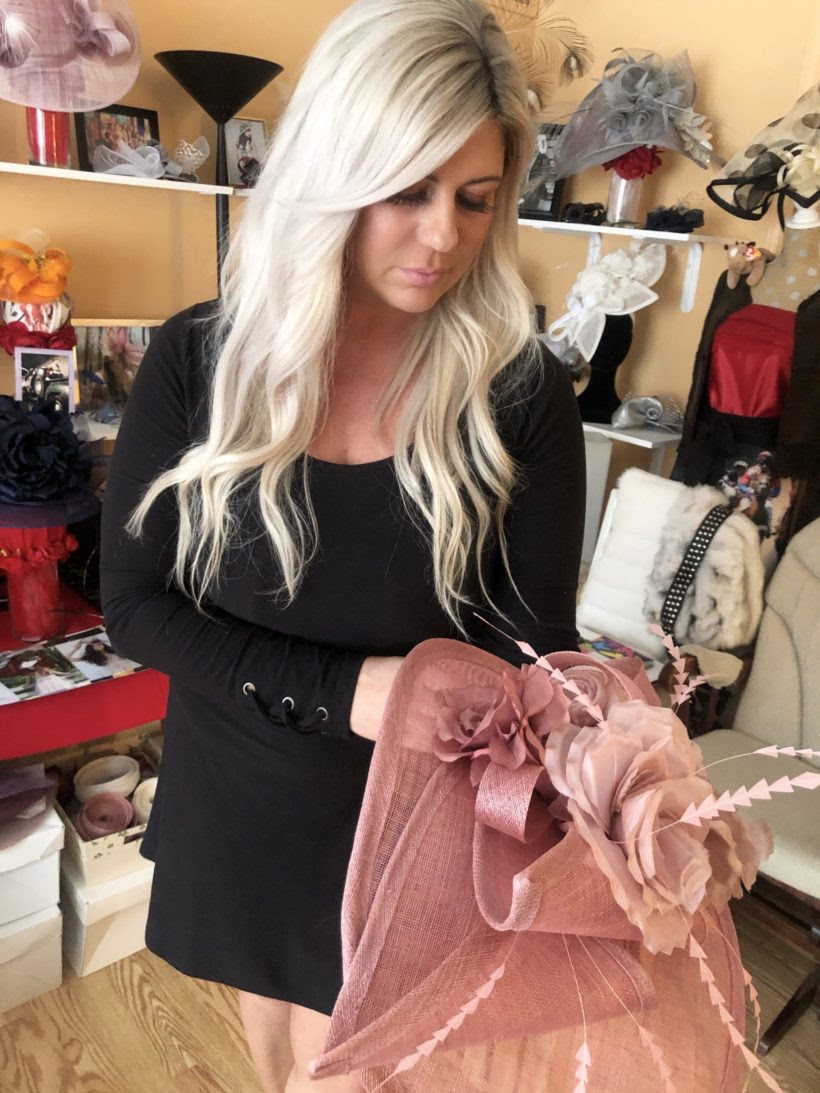 Shannon: I am very familiar with your collection and your beautiful designs. You are truly, naturally talented. You were meant to do this.
Rachelle: I feel compelled to design.
Shannon: What is your favorite color to work with?
Rachelle: I don't have a favorite color. Seasonally, I look for fashion trends. I love greens. I love mustards, emeralds but I'm not a big fan of pastels. Since they are trending, though, I will do them and pair them in a way that I think looks exciting rather than "Spring, floral." This champagne color is huge (pointing to a champagne fascinator on the table). A trendy color in Michigan and the Midwest. But I do try to take traditional colors, like black, and I make them more avant-garde by adding faux leather or leather trims to make them a bit edgier.
Shannon: What are your favorite materials to work with?
Rachelle: Sinamay is my favorite. Sinamay is a banana plant fiber from an abaca tree. It's organic, and I get it already colored, and it arrives in traditional spools of material. I cut it, shape it, and steam it. That's what I love. I can create so many different shapes. That's why no two designs are the same.
Shannon: Is there a material that you don't like to work with?
Rachelle: I don't like satins alot. Only because its too matronly and can be overdone.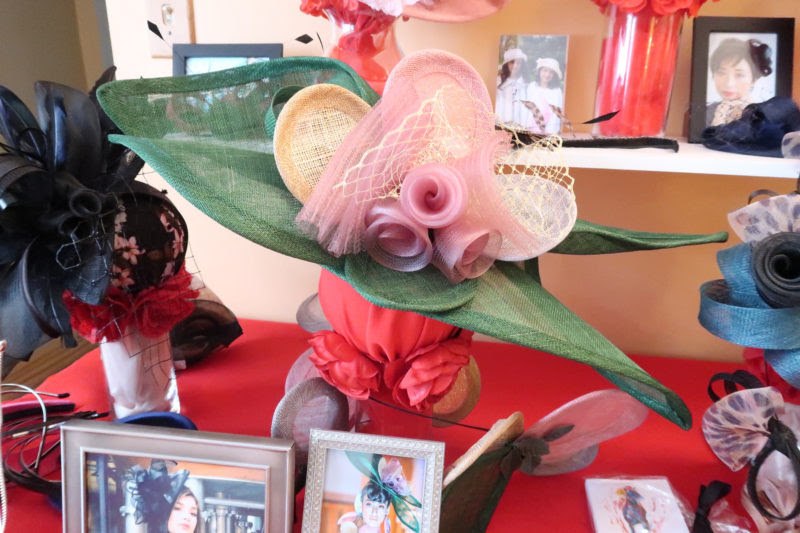 Shannon: What is your top selling item?
Rachelle: A medium size fascinator would be in the $125 range. A fascinator is anything fixed with a comb, clip, or headband.
Shannon: My first fascinator from you was made with a white headband but now I've noticed you have headbands with gems.
Rachelle: Yes! I've added rhinestones and gems and I do have velvet bands now too!
Shannon: You know I love the rhinestones!
Rachelle: Me too!
Shannon: What are your price ranges and how can someone place an order or have a derby hat/fascinator created for them?
Rachelle: My price range for the small pieces is $45 – $65, my medium sizes are $125 – $150 and my larger pieces are between $190 – $225. My really big pieces like the pink flower design we discussed earlier can run up to $500. Clients can place an order or make a purchase via my website at derbyhatsbyrachelle.com or via phone 810-623-4926.
Shannon: What is your busiest season?
Rachelle: Derby season of course. Spring. I'm busiest between February through the end of July.
Shannon: Thank you, Rachelle! I'll be purchasing one soon for the Hats Off Luncheon in support of the Suite Dreams Project! Good luck to you this derby season!
Rachelle: Yes, you're welcome. Thank you so much!
You can follow Rachelle on Twitter @MarieWillnus, on Instagram & Facebook @derbyhatsbyrachelle. To view her collection visit www.derbyhatsbyrachelle.com.
Disclosure – This post may contain affiliate links. By clicking and shopping, you help support the management of this blog.