Glamorous Moms Foundation Hosts the Glamorous Luncheon with the Support of Michigan Fashion Designers
The Glamorous Moms Foundation hosted its inaugural fundraiser, Saturday, May 22, 2021, at the Townsend Hotel. The Glamorous Luncheon is an annual Spring event to support the non-profit's mission and community efforts. The original 2020 date was canceled due to the pandemic and the second date in September 2020 was canceled too.
The afternoon entailed a plated lunch & dessert for guests, "Glamosas", vendor shopping with local female vendors/business owners, an award ceremony for the top volunteer of the year (won by Michigan fashion designer, Rachna Chandra), a silent auction, and a fashion show featuring delicious designs made by seven close friends of mine which all happen to be successful fashion designers right here in Michigan.
The Glamorous Luncheon Fashion Show Designers Featured:
Archana Aneja
Rachelle Willnus of Derby Hats by Rachelle
Mila Pershyna of MP Fashions
Leslie Pilling of BLANK iTTi BLANK
Jiayu Li
Rachna Chandra of Taj Cottage
Ashley Harris
The Glamorous Luncheon Vendors:
Kelly Tolbert – Sanctuary Girl
Glameselle Beauty
Moniquee Sobosinski
Christina Liedtke – Astouri
Sherlyn Fox – Fashion Group Int'l Detroit
Tina Kefala – Worth New York Sale
Mulutsega Getahun – Cotton 'n Things
The event was the first in-person event for many after social distancing for 15 months. and was sponsored by The Lazov Agency, Koster Moisture Tester, Inc., and Kelly Houseman Counseling. Models and fashion show planning was sponsored by Your Entourage Agency with special thanks to Kimberly Simpson.
Admissions were limited and social distancing rules applied.  Only one look from each designer was celebrated to ensure room capacity guidelines by the CDC and the Michigan State mandate was followed. Each model wore Glameselle liquid matte lipstick, and a fascinator handmade the night before, by Rachelle Willnus of Derby Hats by Rachelle. A portion of the event's proceeds will go towards New Mom Baskets, holidays gifts & necessities for local foster children, gifts for GMF's Mom of the Month program, and necessities, hygiene products, and blankets for Michigan's homeless community.
Glamorous Luncheon Gallery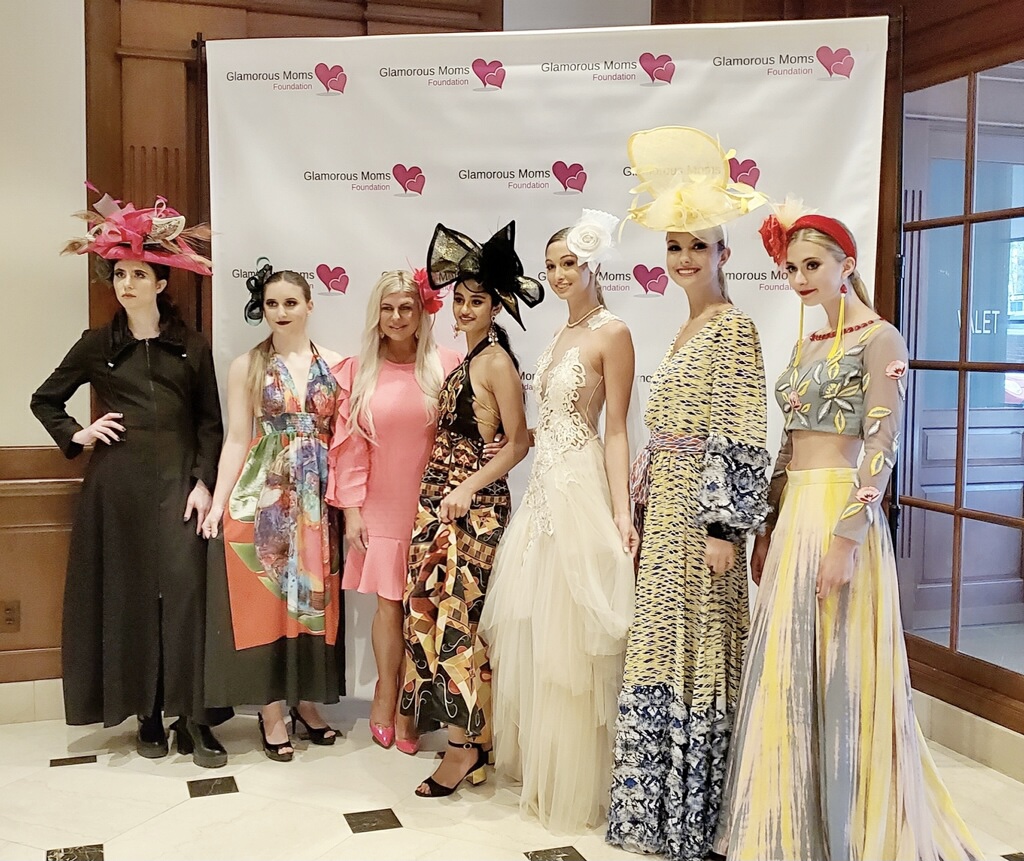 The Glamorous Luncheon date for 2022 is May 21, 2022 and will also be held at the Townsend Hotel. Glamorous Moms Foundation is planning to have more designers and looks for a bigger show next year! Please follow Glamorous Moms Foundation on FB, LinkedIn for updates. The foundation can also be followed and supported via Twitter and Instagram @glamorousmomsfn. To learn more about the foundation, please visit www.glamorousmoms.foundation.
Tax-deductible donations can be made to the Glamorous Moms Foundation by clicking HERE.
Photos – Rachelle Willnus and Shannon Lazovski
Featured Photo – Rex Arsich
Disclosure – This post may contain affiliate links. By clicking and shopping, you help support the management of this blog.